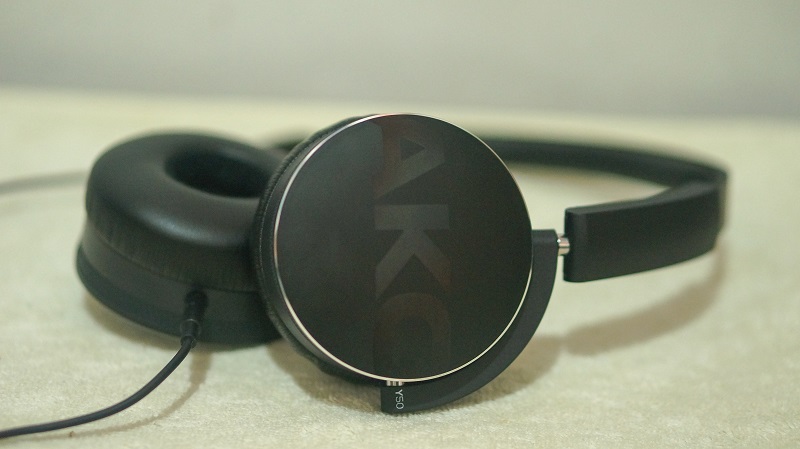 Sound Quality
The sound quality of this headphone is surprisingly good. I say 'surprisingly' because first, the looks of this headphone does  seem like its targeted to the average consumer (i.e. crappy sound) and second is because it's marketed as a headphone with 'enriched bass'. I wasn't expecting too much because of those two things but its sound really surprised me.
In a nutshell, the AKG Y50 is a bassy headphone but is very punchy and doesn't bleed into the mids. It extends extremely deep into the sub bass and you can really feel that oomph when the music calls for it. There is a slight mid and upper bass bloat that makes it definitely bassy but also adds a bit of warmth to the signature.
The midrange is quite coherent and doesn't sound sucked out like most basshead headphones do. The overall bass to midrange transition is smooth and so you don't really get that uneven sound from bass to midrange that so many consumer headphones these days have.
I had to compare the AKG Y50 to the NAD Viso Hp50 (the only sealed headphone I have at the moment) to make sure my findings are no fluke. The latter is a significantly more expensive headphone than the Y50 so I figured it can easily let me spot flaws and eventually tone down my expectations. It did as I immediately found that the Viso Hp50 has fuller-sounding midrange and the Y50 veering a little bit on the dry side. The Viso HP50 also has better upper midrange which gets you that euphoric 'throatiness' while the Y50 is somewhat reduced on this part.
I found that the treble of the AKG Y50 while ever so slightly recessed is decent enough that it is able to portray progressive genre tracks just fine. It can be a little grainy and the mid to upper treble is slightly artificial-sounding relative to the HP50 but for the price and it being a closed back on-ear headphone, I felt it was not bad. In fact it was better than some close headphones from AKG that I reviewed previously.
While the Y50 has good quality thumping bass it's worth-mentioning that the overall signature is not dark or too warm.  While I like the HP50 Viso, I do find it a little too warm or relaxed sounding that it gives me an impression of it being 'slow'. The overall tonality of AKG Y50 reminds me a bit of Audio-Technica MSR7 with the latter having less bass oomph and more treble quantity.
Being a portable headphone it plays loud enough on any portable device without any need for an amplifier. Although I would say it's a little big for my liking to be wearing it while walking or commuting.
Conclusion
When I got this headphone, I didn't know what to expect. I didn't even know if this was an upgrade from their older models such as the K619 or K518LE because the Y-series sure looked different from their previous portable headphones. What I did know is this was definitely not targeted to true-blue audiophiles and I was correct.
On the other hand, this headphone does its job which is to deliver a bassy and punchy sound without sacrificing overall coherence and clarity of other spectrum. Then you factor in other things such as comfort, passive noise isolation, portability and durability and I think you have a pretty darn good headphone at this price point.
This headphone really surprised me and I am happy to recommend them if you like some powerful bass in your music without smearing the midrange and treble. If you're looking for a portable headphone at this price point that does many things well, then this Y50 variant from AKG is at least worth a good look.
Thanks to AKG Philippines for loaning us this headphone. 
Comments
comments