Sound Quality
At the moment, sealed headphones are being compared against the likes of NAD Viso HP50, Audio-Technica MSR7 and ESW9 and Focal Spirit Classic. I would say that the Custom One Pro doesn't surpass those in terms of quality but it's also the cheapest among the bunch with the exception of the ESW9.
Before we dive into the sound, another unique feature of this headphone that makes it suit the 'personalized listening' tag is the four adjustable bass boost on both ear cups. Basically, you can customize the amount of bass on the headphone four notches higher on each of the cups. That is quite unique.
I did find that the first setting makes the headphone bass-light so having it a notch higher is what I would consider as its 'neutral' setting. In that setting, bass is quite nice. It is deep and tight but not as punchy as the MSR7. I wouldn't call it loose or soft but it certainly is of nice quality.
I did try the third and fourth setting although not as extensively as the first and second one. I would say the boost that you're getting is fairly nice and something that the general consumer or bassheads would love. It's note one-note bloat as they call but it definitely begins to overpower the mids as you higher. I still liked it when listening to some RnB and hiphop music but definitely not for rock, alternatives or jazz as they tend to muddle other details of the spectrum.
The midrange at first is a little hollow sounding similar to how I recall my DT1350's experience at the beginning. Voices sound a tad 'cupped' when listening to it through my  laptop and Nexus 6p phone but having it through my desktop makes it sound just fine. It's a little warm and dark-sounding but not too forward.
Treble is withdrawn and is a little artifical-sounding throughout the highest octave. It definitely lacks sparkle from the lower treble which makes it sound dull on tracks that have lots on this area. It reminds me of again the DT1350 headphone and it's funny how listening to more headphones as I go by force me to rethink my opinion of previously reviewed headphones.
I regarded the DT1350 as one having fantastic treble albeit for an on-ear ,and while most of it are true, I don't think it's as clean and clear sounding as what I've written in there. On-ears are just very uneven and don't have the resolution of its bigger counterpart.
Sound stage isn't the typical closed one thanks to its big earcups. I find it being more spacious than the MSR7, ESW9 and Spirit Classic and is probably close to HP50 in terms of soundstage. Instrument separation is typical for sealed headphones which is conservatively average.
This headphone is actually a little hard to drive for a portable one. I have to crank up to the volume quite a bit on all my listening stations relative to other portable headphones mentioned above. It's probably the reason why I felt the headphone sounds bad when played through my phone since it's pretty feeble compared to a desktop.
Conclusion
The Custom One Pro truly represents personalized listening thanks to its custom earcup designs and adjustable bass boost. Both of these  features appeal to the general masses. That along with having a nice build quality and decent sound quality makes this an easy recommendation to the general consumer even at $199.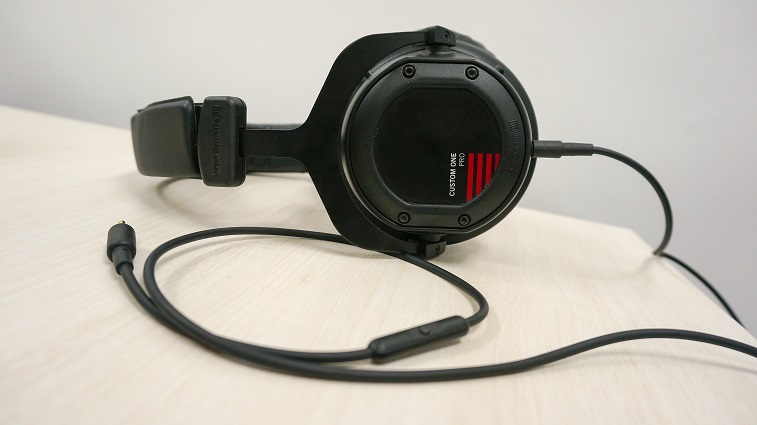 For those who put more premium in sound quality, the Custom One Pro isn't a bad choice but there are definitely betters for this price range. The M50x from Audio Technica is a bargain at $150 and is a better sounding one. The Sennheiser Momentum is also a pretty decent one at a lower cost and if you can go slightly higher than your budget then the MSR7 and NAD Viso HP50 are nice purchases as well.
Go and check out Beyerdynamic Custom One Pro on Amazon if you're interested in buying.
Comments
comments