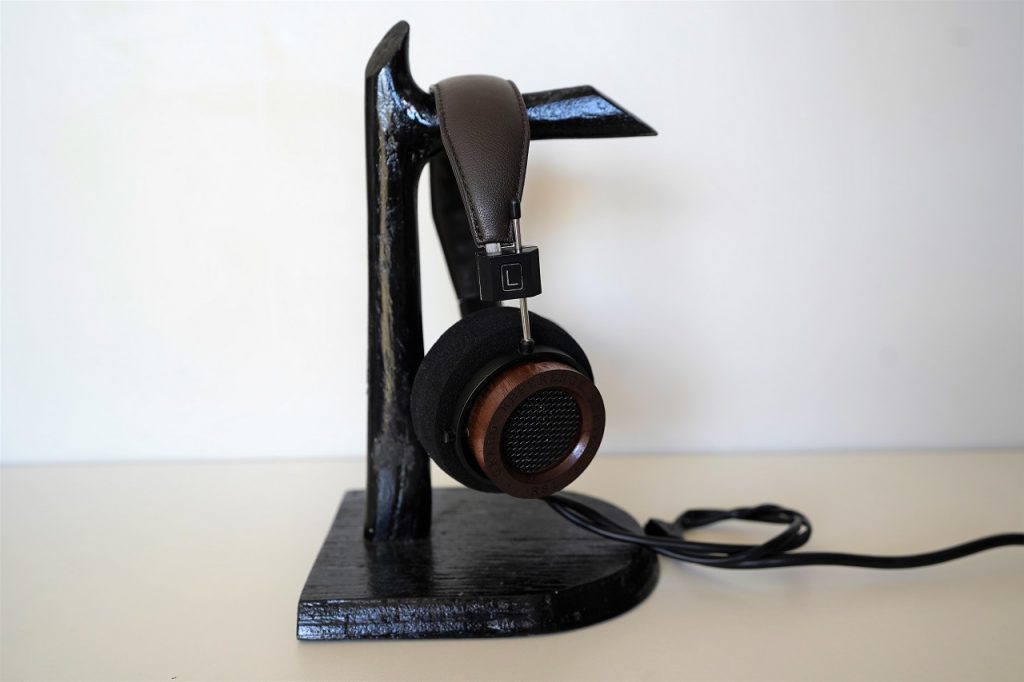 Sound Quality
The Grado house sound is unmistakable. Slightly diffused-sounding, not very good bass extension and tightness, forward midrange, and ever so slightly hot upper frequencies. In short, it gives you that front row-like experience when watching live performances. The RS1i is very much true to its heritage but I'm surprised how different it is from the SR225i and SR80i that I've listened to many years ago.
The RS1i is surprisingly not that bright! As a matter of fact, I think it is more warm than it is bright. The bass frequencies lack the extension which is unsurprising but there is a strong mid/upper bass that is slightly loose and soft-sounding. This cheats a bit and tries to make up for the rolled-off low bass. The bass transitions quite well to the midrange that gently slopes upward before increasing further as it reaches 2-3Khz. It results in a forward midrange that is very intimate and lively.
The upper midrange is elevated, perhaps a bit too much. Though it's wiggly moving from there, it remains elevated in the treble frequency and is higher in level than most of the midrange. Still, I did not find it as grating or sharp as the SR225i, from memory. The owner said it's the wood imparting some sonic character to the overall tonal balance which might be true, but it's probably also the driver having better control than its lower sibling.
This upper midrange though is where it can make things sound honky. I listen to a lot of Taylor Swift tracks and I would have to lower down the volume or EQ down some parts of it to get a better listening experience. I wouldn't call it unbearable but I know it's excessive for my liking.
The treble can be quite hot at times as there are some small but sharp peaks in the 8-9khz region that can give some bite to percussion instruments around that range. I surprisingly didn't find it annoying even when playing some of my favorite Dream Theater tracks. Treble resolution is also quite good subjectively. It's neither soft nor overly sharpened. There's also a good bit of air frequencies past 10Khz. The overall treble balanced is quite good so rather than calling it a bright headphone, I would probably classify it more as an aggressive, lively, and forward-sounding can.
The RS1i's soundstage is pretty small, almost like an over-ear sealed headphone. Imaging is quite good though as I never find it congested-sounding as I do with sealed headphones. It's also got a good transient response and detail retrieval making it enjoyable for instrumental and progressive music tracks.
The one caveat for me though is this headphone, like other Grado headphones I've listened to in the past, just doesn't sound as big or full-sounding as say Focal Clear or even the Meze 99 Classics. The lack of bass extension and tightness, and forward midrange might have something to do with it, but I think it also has something to do with the fact that this is technically an on-ear headphone. The pads are this L-cushion which has a medium-sized hole in the middle that is still not enough to get your ears fully in. I don't know, maybe it's a load of BS or maybe it's just my mind playing with me knowing I'm fully aware this is not a huge headphone.
As a whole though, everything seems to come together and sound coherent as a whole. I personally have enjoyed my time listening to these headphones. The excess upper midrange and loose bass occasionally come up (track dependent) so this may not be good for critical listening especially if you have other headphones that are more tonally correct. At the time of my testing with the RS1i, I did have some nice headphones that I alternate with it namely the Focal Clear and Utopia so those unfairly magnify the weaknesses of this headphone.
Like all Grados, the RS1i is quite efficient so you don't an external amplifier to drive them to loud listening volumes. Having said that though, I still prefer using it with one and have done most of my listening sessions having it plugged into the Schiit Magni 3 and Monoprice THX 887.
Conclusion
The Grado RS1i is an interesting headphone but like most Grados, it's a niche product that's not for the masses especially at its MSRP of over $600 ($695 for the current 'e' model). If you are coming from an entry-level $100-$200 headphones and want the next step up, you are probably looking at an option that nails as many things right. Headphones like the Sennheiser HD600/650/660s, the Hifiman Sundara, and Audeze LCD-2c would appear to be better suited for that purpose.
If you are a headphone collector though and want that distinct headphone in your collection, the RS1i or RS1e is not a bad purchase. Aside from its vintage aesthetics, it's not like you are getting a bad sound. If you listen to genres that won't exacerbate the upper mids and can put up with the subpar comfort, this headphone is worthy of a look. But if you just want that taste of "Grado house sound" without spending too much, perhaps going with the SR80e first is a safer bet.
That's about it for this review. If you own a pair of the RS1i, I'd love to hear your thoughts in the comments section below.
Comments
comments