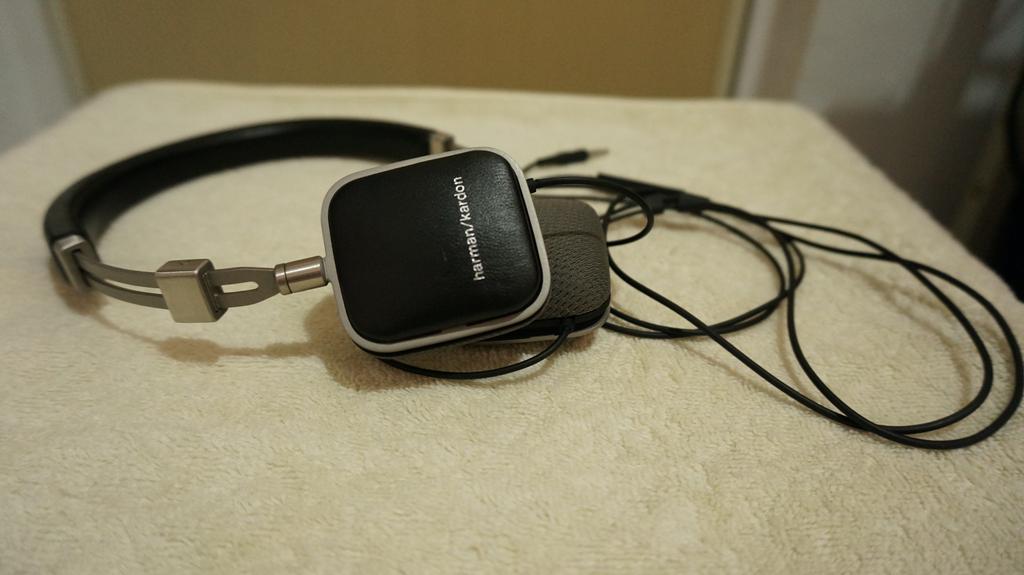 Sound Quality
For a small compact on-ear headphone, the Harman Soho pursues a balanced to warmish sound signature with good bass definition. The bass has good extension and doesn't sound muffled which is the case for most small on-ears. It does lack some tightness but it's not wooly or boomy. I did feel that the upper bass is slightly forward which accounts for its warm sound.
The overall midrange isn't as articulate as I'd like but for a headphone of this small driver size (30 mm), it certainly does perform well. Compared to say the AKG K451, the Soho doesn't sound boxy or honky. It reminds me of the midrange quality of my favorite ultra portables namely Koss PortaPro and Sennheiser PX-200-i. The Soho also has good bass to midrange transition which means it's well behaved as it goes across those frequencies.
The high frequencies are recessed, perhaps overly recessed for my tastes. Starting from upper midrange, it seems to have smoothed of the sound. This makes the headphone sound dull for music that has lots of bite and zing to it. Soho simply reduces this part and renders it rather softly. The advantage of this is it makes the headphone not fatiguing for long listening sessions.
Soundstage is small and the headphone doesn't image well due to its small drivers and small earcups. While I find listening to pop and RnB satisfactory, it doesn't do well at all for fast type of rock as the presentation easily becomes congested.
Finally, this headphone is made to be used with mobile phones so it plays loud and would not need amplification.  It probably wont benefit from that too.
Conclusion
I really like these. The headphones pursue a safe sound signature and at the same time does what it's supposed to do which is be used for mobile applications. They also look very stylish and is built well.
On the other hand, they are expensive. At around $200, it is more expensive than the Sennheiser Momentum on-ear (street price) and VModa M80 and both are significantly better sounding headphones that can also be used for mobile purposes. And for something even cheaper, you can have the Philips Citiscape Downtown for less than half of Soho's prize. All of these are better-sounding,  have better noise isolation and are built equally well (maybe not as luxurious).
In the end, this is one of those headphones that I love to love but will have a problem recommending due to it's high price. The $200-$300 range is the range where you can get a mid-tier or entry level audiophile cans. Sadly the Harman Kardon Soho are neither of those and are rather targeted at  a different category.
Thanks to Harman Kardon Philippines for sending this headphone for review.
Comments
comments