In-ear noise cancelling headphones by far isolates the most amount of outside noise anyone could ever hear. Even just passively, IEM's can compete very well with the best noise cancelling cans (Bose to be specific) out there.
I feel odd about this headphone type  (in somewhat the same way that I do for on-ear noise cancellers). I do think that because these types of 'earphones'  already isolate excellently, there's no need for the extra active-noise cancelling features. It also makes the hefty price tag not so worth it considering there's not much difference in  terms of isolation when using the earphones active noise cancellation feature.
Enough on that rant, here are the top ones that I can see out there:
Sennheiser CXC700 – The CXC700 is included in Sennheiser's newest lineup of noise cancelling headphones that have the NoiseGard 2.0. I do not have an experience with this headphone (nor am I looking to get some) but I heard that it is a pretty good in-ear noise cancelling headphones. It's not really saying a lot since headphones in this category are few and far between.
Just like other Senn's headphones of this type, you are not forced to use the active noise cancelling feature. The problem is once you're not using it, the volume level of the headphones on portable devices, while acceptable, is not that loud considering the high 'ohm level' of this headphones.  But still, its a competitive product for this type (and if you're willing to shell out some money). Sennheiser CXC 700 on Amazon.
---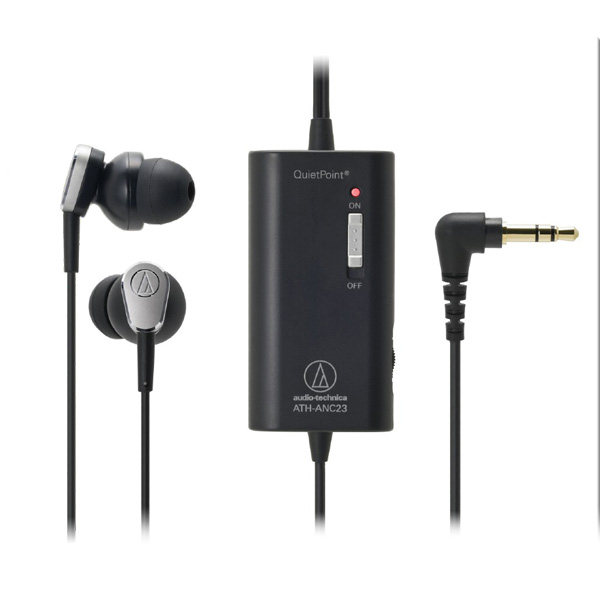 Audio Technica ATH ANC23 – Probably the best bang for your buck in-ear noise cancelling headphone available. It doesn't quite do as good as the headphone above but for more than half of the price, you should be fine with it. According to Audio Technica, it isolates background noise up to 90% although we all know that its probably not true.
Sound quality is slightly above average (as mostly the case for this type) and there are also some comfort and fitting issues with these headphones as reported. You may wanna consider those factors when choosing this headphone. Or you may not since its damn that cheap. Audio Technica ATH ANC23 on Amazon.