Closed back full size headphones are the most popular type of headphones to the general public. Aside from the fact that they generally look cool, they also provide passive noise isolation and most of them are comfortable to wear. They don't sound as good as open back headphones but the purpose is also different. These types of headphones can be very well used professionally in loud environments or when commuting.  Here we go:
Focal Spirit Classic/Professional – Both the Spirit Classic and Spirit Professional are quite new to the market compared to the others in this list but boy do they both sound good!
Both headphones are punchy and dynamic sounding but without losing the linearity. The frequency response is quite flat which would easily satisfy an audiophile. It's built like a tank and does a good job isolating passive noise. Focal Spirit Classic/Professional on Amazon.
Cons: Tight clamping force, can get uncomfortable for long listening sessions.
---
Sennheiser Momentum – A good general purpose headphone with a well-balanced sound. The bass extends low and the midrange has a slightly warm tilt. Treble is a bit laid-back but very responsive. Design is strikingly handsome and the overall comfort is very good. Isolates outside noise well too. Sennheiser Momentum on Amazon.
Cons: Might be small for some to be a full-size headphone. Fit issues may be an issue for some
---
Denon AH-D7000 – Perhaps the best closed-back headphone performance-wise. Good neutrality on lows and mids, plus a slightly emphasized but refined highs, the AH-D700o is usually on the recommendation pages of top audiophile community sites like Head-fi. The design is sophisticated while the comfort is excellent. This headphones can be both used professionally and even for general purpose use.  Status: Discontinued
Cons: Very poor noise isolation for a sealed headphone.
---
AKG K551/K550 – Like the AH-D7000, this headphone is fairly balanced on all parts of the spectrum. They have a very linear sound, and a pretty good soundstage for a closed-back headphones. One advantage that this headphone has over the above headphones is that it has a fairly good passive noise isolation. Value for money-wise, this is a very competent headphone in this category and price range. AKG K551 on Amazon.
Cons: Fit may be troublesome. Treble response a bit artificial-sounding
---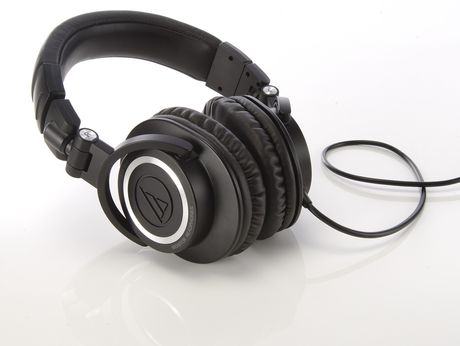 Audio Technica ATH-M50 – The most recommended headphones for the sealed category. Audio Technica M50 is a very good sounding headphone and bass heads are surely going to love them. The sound signature is a bit uneven with the emphasis on bass that extends towards the lowest octaves. But even with that, the sound quality is still very very good.
Isolation, durability, and comfort are off the charts as well and its not hard to recognize why this headphone is the most recommended one. M50 on Amazon.
Cons: Comfort is not for everyone. Bass is a bit loose.
---
Shure SRH-840 – This is pretty much the same as the ATH-M50, actually almost identical. Tank-like build quality, good isolation, bassy frequency response and good comfort, Shure SRH-840 is one of the favorites in terms of  headphones that do well in moderately loud environments. The sound is a bit warmer though, and highs are a it edgy depending on the song that you're playing. Nevertheless, this headphone is a very very good one and is terrific for the price range. Shure SRH 840 on Amazon.
Cons: Sound may be too relaxed. Lacks a bit on detail retrieval