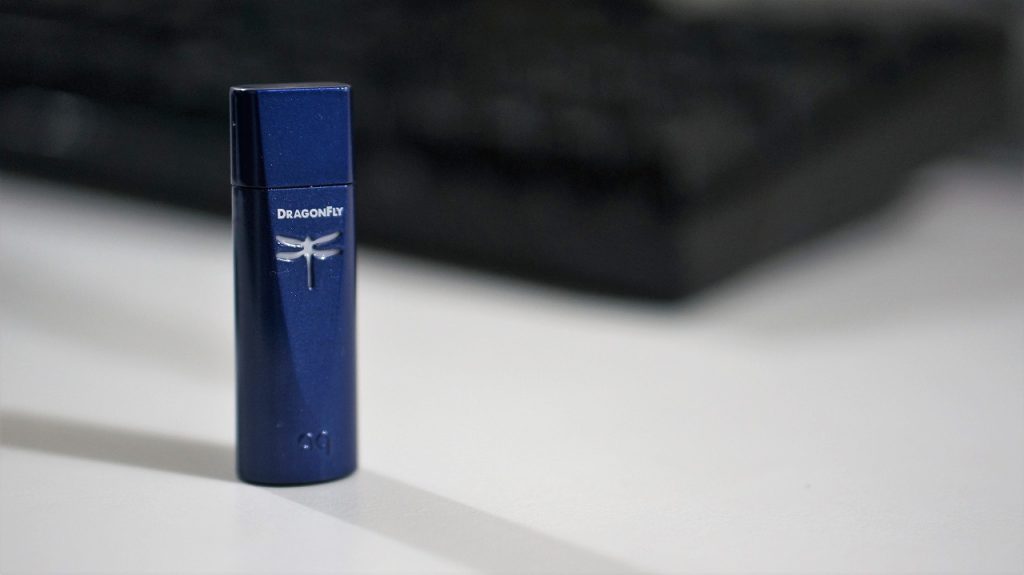 Sound Quality
Headphones: Audioquest NightOwl, Focal Spirit Classic, Audeze Sine, Hifiman HE400i
Earphones: Etymotic ER4P, AKG earphones from S10
Some things worth-mentioning before you continue reading is that I did not have any experience with previous Dragonfly models so I couldn't really do any comparison with them. Additionally, the entire testing of this was done in DAC/Amp mode which is probably what most people are going to be using this for.
The Cobalt is pretty powerful as I didn't need to go past level 20 volume on my laptop while using it with most of my headphones, granted, they're all fairly efficient. But that's something to keep in mind because it defaults to full volume upon installation and the loudness you'll get can easily damage your hearing. So start from the lowest possible volume and just increase it gradually from there.
The sound from the Cobalt is noticeably better than your laptop's normal headphone out and I'd argue even those with untrained ears can tell the improvement. It is noticeably cleaner yet smoother-sounding, has better blackness of background, and improved dynamics. Both my Dell XPS 15 and Asus GL503 have crappy outputs that somehow make my Audeze Sine and Focal Classic sound foggy and in the case of Sine, more murky in the bass area.
The general tonality seems neutral but with the top-end being on the smooth side thanks to the slow roll-off filter. I read those previous Dragonfly models have a little bit of edge to them and so if you think that's not something you'll be happy with, you'll probably find the Cobalt more suitable to your liking.
Synergy
The most obvious choice to test this DAC/Amp with is the NightOwl which I reviewed some time ago. The NightOwl is super warm, almost syrupy and I thought the neutral-ish nature of the Cobalt would tame it a little but that wasn't the case to my ears. The NightOwl is already an efficient headphone so while the tonality was largely unchanged, I did find subjectively that its treble resolution improved reducing the tizzyness and had better air compared to having it directly plugged into my laptop.
The Focal Classic and Audeze Sine as mentioned above was a good fit for the Cobalt. Both of them had a more 'normal' sound profile than the NightOwl but both had improved dynamics and overall treble resolution.
Interestingly it was the Hifiman HE400i that didn't benefit in terms of pairing. While the HE400i is neutral-ish in nature, I sometimes find the bass lacking and the upper mids or lower treble shrill and compressed-sounding. Those characters were retained even when plugged into the Cobalt. For comparison's sake, the Aune T1 DAC/Amp combo was considered a good fit for the HE400i giving more body to its bass while taking some edge of its treble.
I unfortunately don't have a lot of IEMs to test with but both the ER4P and the included AKG earphones from S10 sounded quite clean with no hiss that I can hear of.
Conclusion
It's not entirely true for everything but small, portable equipment or gears tend to be costly. An example that quickly comes to mind is thin and light gaming/content creator laptops where you're mostly paying for the convenience than performance. But that's not to say they're inherently poor performing.
The same can be said for the Dragonfly Cobalt. At around $400 (19,000+ pesos), it's no crazy value performer, but the performance is nothing to scoff about. The fact it's a DAC/Amp/pre-amp combo, has the same length as your index finger, requires zero set up, and doesn't take any space at all, is pretty impressive when all things are said and done.
Bringing down the Cobalt to earth a little, I don't think it sounds better than the Magni 3+ which is $300 cheaper. But the Magni 3+ is purely just an amplifier so it's nowhere near the Cobalt in the convenience department.
Go ahead and buy the Dragonfly Cobalt if you're a budding audiophile looking to make that incremental jump to your journey without wanting to think too much about amplifier and DAC pairing. If the cost is not a problem, I strongly believe you're not gonna regret the purchase.
Budding audiophiles aren't just what this product is for. I think those who want better listening experience from their workplace but don't really want to transport their rig on a daily basis would find the Cobalt handy. It's obviously not the same performance as a dedicated desktop set up that you may have, but it's still better than having none.
Get the Dragonfly Cobalt here if you're living in the Philippines, otherwise go check it out on Amazon.
Comments
comments