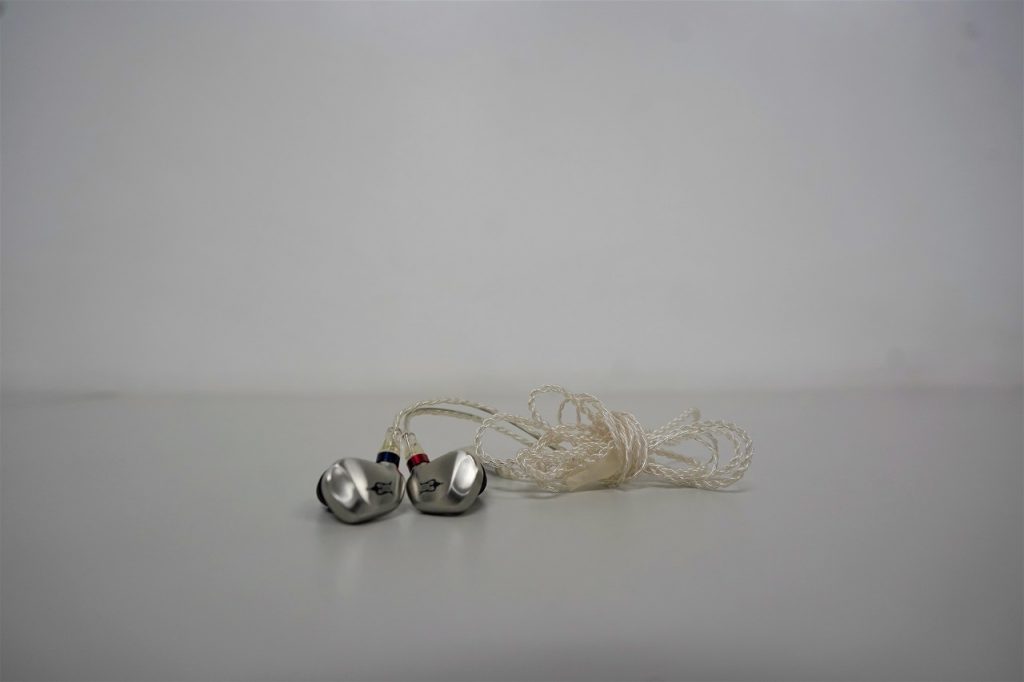 Sound Quality
In this section, we'll talk about its stock sound and my EQ profile.
Starting off with tonal balance, I find the Rai Solo to have a V-shaped response. What it means is the bass is quite strong, a decent part of the midrange sits quite low, and some of the treble energy is titled up. It's been a while since I've heard a signature like this so it took a while for me to warm up to it.
The bass quantity with this IEM is fully-filled out, perhaps done excessively especially in conjunction with the midrange. The upper bass is too much that it results in a bloomy and slightly wooly tone. It is compounded by the strange scooped out lower midrange that usually results in a disconnected bass to mids transition. But the bass extension is very good although the excessive quantity doesn't work in its favor.
The scooped-out low mids creeps up gradually and eventually gives the upper midrange some boost. Perhaps too much boost that it approaches shoutiness. Treble frequencies are likewise elevated and quite peaky resulting in some harshness that I clearly feel can be remedied by EQ. The treble extension as a whole is decent though as nothing seems to be missing or disconnected.
Soundstage and imaging are two things that are affected by how the tonal balance comes together and I feel they both suffered from the way the earphone is tuned. The pervasiveness of the upper bass and lower treble gets into the overall presentation of the earphone. It also gives it a timbre that is metallic or crispy which reminds me of the Beyer DT line.
I really really want to like the Rai Solo because it's comfortable and I like the look of it. So I decided to spend time EQ'ing it
EQ'd Audio
Based on what I subjectively know and doing cross-comparisons with some of the publicly available frequency response graphs of this earphone, I decided to make some changes.
To summarize, I dialed down 400hz and below to 3db which helped level it better with the mids. I then reduced 2,100khz to 3db and 4,500khz to a whopping 8db which made the upper mids/lower treble lose its harshness and broken glass quality. The reduction to 4.5Khz specifically made it a much tolerable listen. I'm sure you can tweak some more here and there depending on your own preference but I think this is as good as it can get.
About 90% of my complaints have been fixed with this! No more bloominess, no disconnect in the mids, not as shouty, better treble resolution, and a more coherent sound as a whole. I feel it also improved the soundstage and imaging since things are more even after the adjustments.
EQ is not a be-all-end-all solution so there some things that I couldn't fully correct. Despite toning down the bass, it's still not as tight as I'd like. It's kinda rounded and bouncy. The metallic and glassy tinge is still there and detail retrieval is average for the price.
Having said that, this made the Rai Solo an earphone I can listen to for an entire day since I was able to take out all the offensive qualities.
Conclusion
The sad part about EQing audio gears is most people still don't or are unwilling to do it. And with the Rai Solo's frequency response shortcomings, I just can't recommend it, especially at the $199 price tag. There are better earphones that simply just sound better at even half its price. Some that come to mind are the ER3's variant, the Hifiman RE600, some of the entry-level Shure's and the list goes on.
The adjustments that I made makes it better but EQ doesn't make a headphone something that it's not. So in that regard, it is still not a slam dunk. Personally, though, that converts the Rai Solo from an earphone that I don't want to use, to one that I don't mind using for casual listening. It's nice and decent, I just don't think I would want to pay the MSRP of $199 for it.
Thanks again to Meze Audio for the loan unit. If you think you'll like the Rai Solo earphone, you can go check it out from their page here.
Comments
comments