Never thought I'd get my hands on a pair of the Apple Airpods Max due to its shortage during its launch. It looks quite funky in pictures but I would say it looks even more so in person. Is this the GOAT of all wireless noise-cancellers? Well, how do we even define that in the first place? Regardless, let's all find out in this review!
Quick note: I'm not an Apple user hence not part of the ecosystem so the review is going to be mainly from what my background is as a Windows and Android user. This means the review doesn't cover any exclusive integration the headphone has with iOS devices.
Overview
The Airpods Max is Apple's first foray into the over-ear headphones market. This is a sealed wireless noise-canceling dynamic driver headphone retailing for a whopping $549, and even more expensive locally at around 32,990 pesos. Easily trumps all other consumer wireless headphones price-wise but to the surprise of no one considering it's Apple we're talking about here. This specific unit I purchased from Beyond the Box (they didn't want to give me a demo unit 🥲) for around 26,000 pesos as it was on sale during the time.
The color schemes are unlike any other consumer headphones and the specific model that I have is the red/pink combination which admittedly is too much for me to bother wearing outside. 😁 Here's the Airpods Max in all its glory.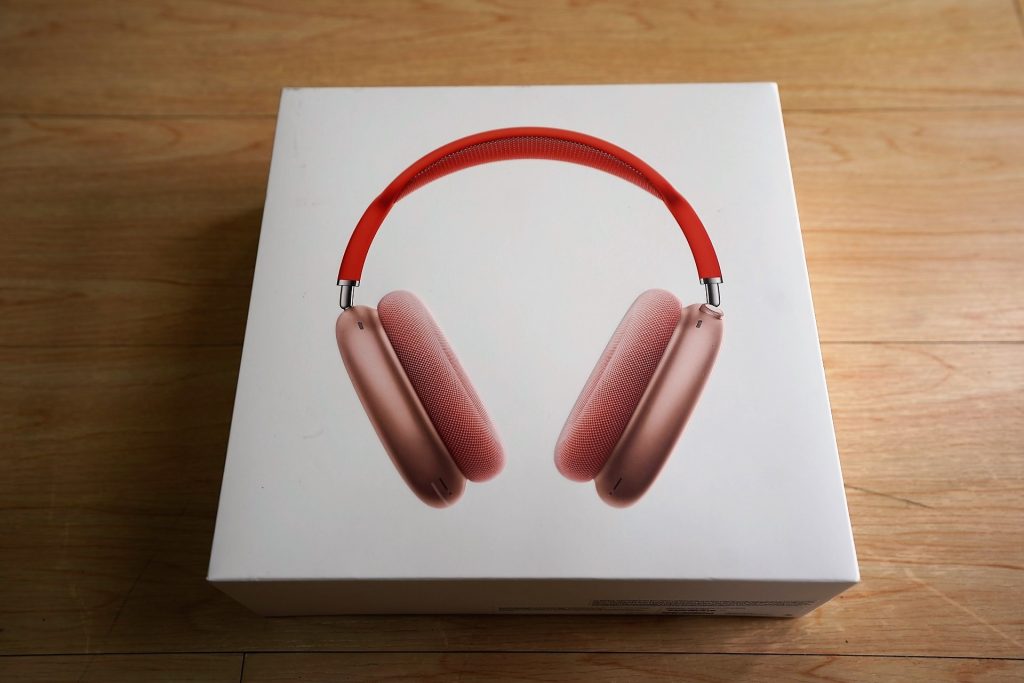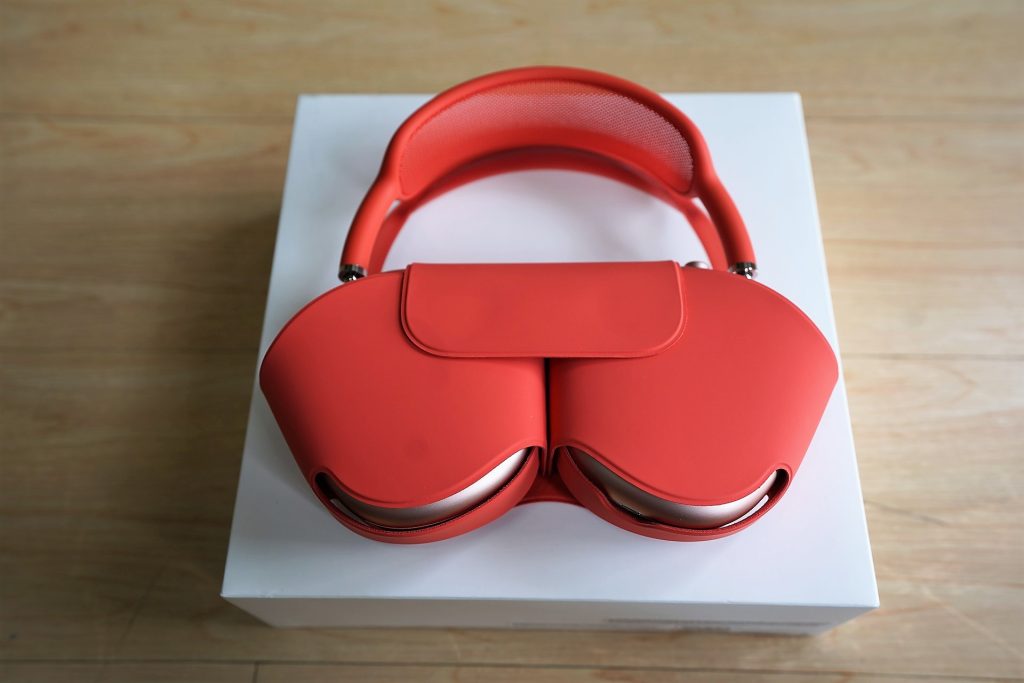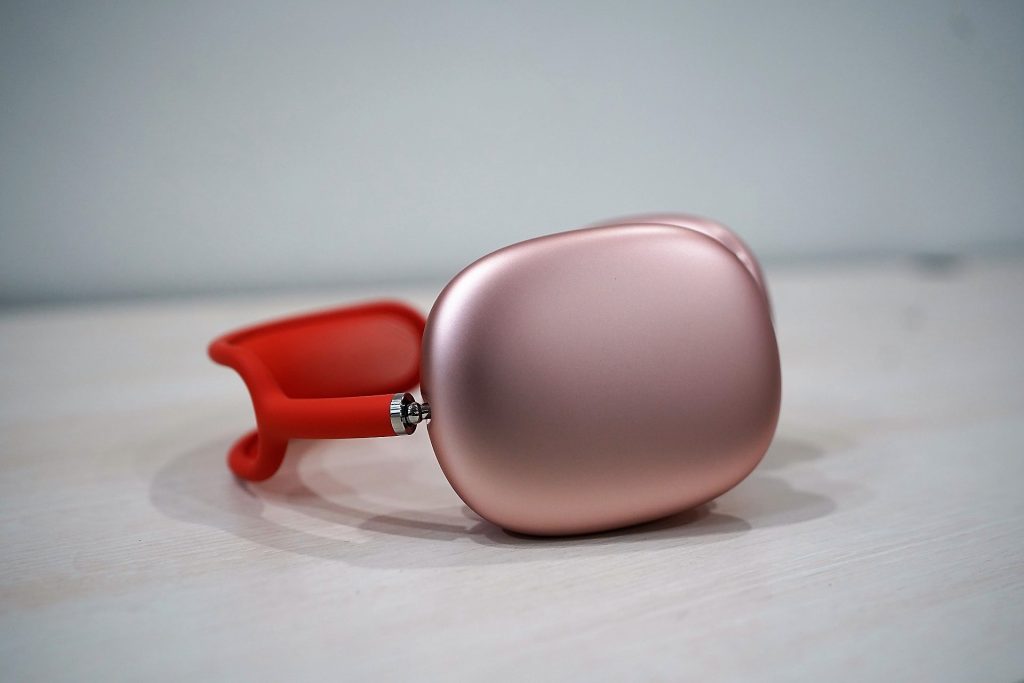 Packaging, Accessories & Build
For the packaging, you get a standard apple cardboard box which for the price is kinda plain although most of the competing headphones are similar in this manner not to mention it's pretty standard for an Apple product. There are 2 accessories inside namely the smart case and a charging cable that is lightning to USB-C. No extra cable for passive wired listening and that is sold separately.
Let's talk about this smart case for a bit. This one is made of a soft and smooth material on the outside and what appears to be some kind of leather on the inside. The smart part of it is when you put the Airpods Max inside, it triggers the ultra low power mode/sleep which is important because there's no way to turn off the headphone. I heard that it's the magnets that do it and other than that, there's really no other function for this case. I would not even call it a case, it's more of a sleeve and there are also holes so the protection that this one provides is almost non-existent.
The look of the Airpods Max Pro is unlike any other headphones I've seen. They call it "radically original composition" and they're damn right! Aesthetically not for me for sure but you may fancy the overall styling. It also comes in other colors and there's some level of customizability where you can choose different colors for specific parts of this headphone. Pretty neat!
Build quality is pretty good as is the case with an Apple product. It's not like any other wireless headphones that I've tried (how many times have I said this). Metal construction on most parts, anodized aluminum on the cups, stainless steel frame which is wrapped with a soft-touch rubber-like material on the headband adjustment part.
The earpad cushion is soft and it's wrapped by a textile mesh which is the same material that you'll find on the headband. It is attached magnetically which again is pretty neat. Unmistakably an Apple design language.
There is also a single button for toggling noise-canceling and transparency mode, and a digital crown akin to what the Apple watch has. Here's you can trigger various functions
The placement of the buttons should be at the bottom instead of the top. I find it a little odd to make adjustments reaching the top part of the earcups and most headphones place it at the bottom anyway. I also often hit these buttons when putting on the headphones or making adjustments when it's on the top of my head.
Control the volume level by turning the crown in either direction.
Single-press to play or pause.
Double-press the crown to skip forward.
Triple-press to go back.
Press and hold to trigger Siri.
They've also got a total of nine microphones in this one which is higher compared to the competition. Eight microphones for Active Noise Cancellation. Three microphones for voice pickup (two shared with Active Noise Cancellation and one additional microphone).
Connectivity
Pairing the Airpods Max with a non iOS device isn't as straightforward and is actually a little finicky. To do so, you gotta take off the headphone from its smart case, hold the noise canceling / aware mode button and wait until the LED light at the bottom turns and blink to white. That's the sign you've gotten into pairing mode and the headphone can now be found by the device that you're trying to connect to.
Bluetooth multipoint is also not supported in Airpods Max if you're juggling between non iOS devices. You can connect your headphones to multiple devices but it doesn't auto-switch depending on what is playing music so you'll need manually connect/disconnect the headphone if you're planning to juggle the headphone with various devices at the same time. Kind of a bummer if you ask me
Comfort
When I first put the Airpods Max on, I said "it feels fine, I can wear this for an entire day easy". But of course, I was used to wearing heavy full-size headphones such as the Focal Utopia which weighs over 500g, and so I had to compare it more with similar headphones to realize that a). This is the heaviest noise-canceling wireless headphone, and b). The clamp is tight and it pinches the sides of my ear after some hour. Yes, it may loosen up after some time but it's no match when compared to other noise-canceling headphones such as the Bose QC45 and Sony Wh1000xm4.
Walking around, I did begin feeling the weight which you can't really say with any of those mentioned headphones. It seems to be heavier or more fatiguing than the advertised 386 grams. Maybe it's the clamp or the suction effect that is inherent to noise-cancellers.
So yeah, if you're more used to small portables and consumer wireless headphones, this one's probably not gonna be comfortable initially and will take some getting used to.
Battery Life
Apple advertises 20 hours of continuous use which is less than most competing products and my experience with it reflects that. With some of the previous noise cancellers like the QC35ii/QC45ii, NC700, and Sony WH1000xm4, I'm able to make it last for at least 4 days using it mainly as an office work headphone for about 6-8 hours a day. The AirPods max on the other hand can only last for 3 days, maybe a little more than that but nothing further.
Not that big of a deal for me though as I'm just sitting home but I imagine it'd be more crucial for travel or long flights where 20 hours may not be enough.
Noise Isolation / Transparency
Objectively, the Airpods Max cancels out more low-frequency noises than the XM4 but they are very similar in my experience. Where the Airpods Max slightly falls short over the XM4 is in the higher frequencies where the Airpods Max lets a bit more in, specifically conversations type of noise which is pretty odd. I find it inconsistent in this regard where it sometimes cancels those out aggressively but also lets them in at times. This might have something to do with the whole computational stuff from the chip where it sometimes miscalculates what to cancel or not.
Again, I will state that they are very good and quite close to the XM4 and the new QC45 from Bose. Most of the time it won't even be noticeable so I don't think you're gonna have problems you've really set your sights on chasing the objectively best option available here.
The transparency mode (aka aware mode or audio passthrough on some headphones) is usually a feature I don't put focus on and I find it to be slightly on the gimmicky side. The quality of this mode on the Airpods Max though has made me reconsider.
In other headphones, the audio quality in this mode is either pretty mediocre or not too different from having the noise-canceling mode disabled. With the Airpods Max, the sound is crystal clear and is legitimately amplified. The outside world sounds even louder compared to not wearing the headphones which is real fascinating.
Microphone quality
The overall quality of the microphone is typical of headphones of this type which is disappointing as I expected that Apple maybe has some ace up their sleeves. Definitely more than usable for Zoom calls and casual phone conversations but not for audio recordings. It does get even worse when there's plenty of background noise and I find that it does make your voice more muffled in some instances.
Page 2: Features, Sound Quality & Conclusion
Comments
comments