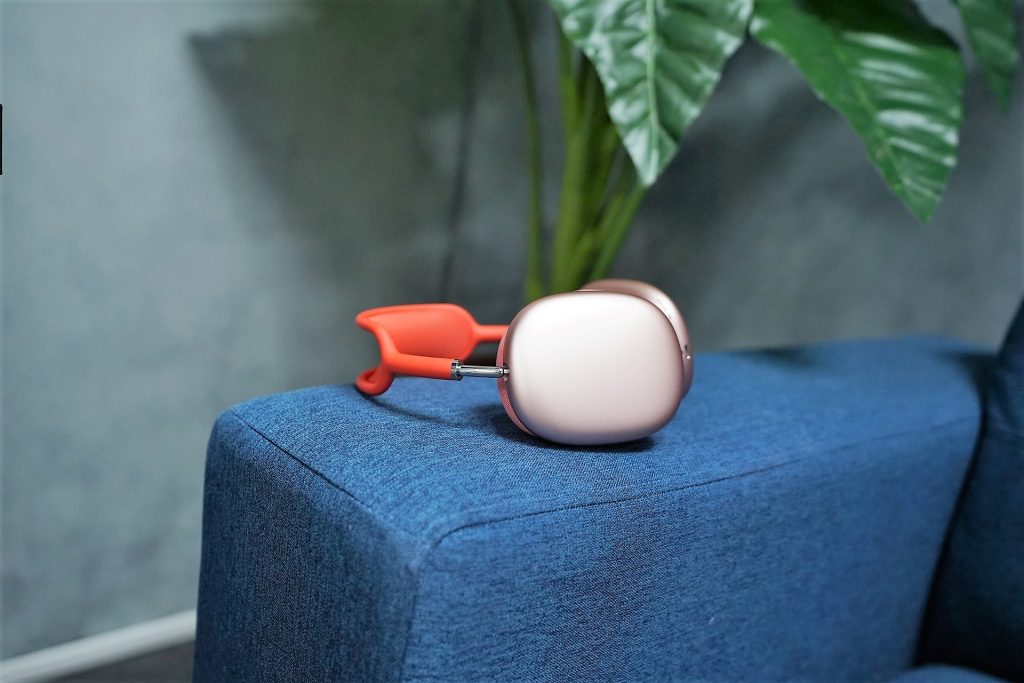 Features
The Airpods Max is feature-packed like some of its competitors such as the Sony WH1000XM4. It does come with an H1 processing chip that allows it to do computational stuff in some of its features such as Adaptive EQ and head tracking.
The Adaptive EQ in theory is pretty neat as it allows the headphone to compensate the audio when it deems the fit is improper. In practice though, I find it impossible to determine if it's correctly working or not. I attempted breaking the seal on my head or placing an air gap and the only difference I'm able to spot is an increase in bass frequency which I have to admit is pretty neat initially.
Both the automatic head detection and spatial audio do not work with an Android phone so I was not able to test it out. The former is a fairly common feature that lets the headphones pause the music when you take it off your head. Spatial audio is quite neat yet gimmicky at the same. What it does is gives you an immersive experience where the specific placements in the music that you're listening to adjust to the positioning of your head. So if there's a cymbal on the right part and you move your head in that direction, the cymbal gets centered as it tries to mimic what happens in real life.
Sound Quality
I'm gonna begin once again by saying 99% of wireless headphones out there sound distinctly like one. Even more so when you're talking about wireless noise-cancelers. The Airpods Max? Let's just say that it's closer to the 1% than it is to the 99.
The Apple Airpods Max is a very good sounding headphone for the type that it is. I would have no problem putting it on the same level as the Drop THX Panda although it has a different set of strengths.
It is a fairly bassy headphone but with the accentuation done mostly right. It's a little subdued in the upper mids and lower treble but makes up for it with slightly elevated upper treble frequencies. Overall, a little U or V-shaped in its tonal balance but nothing really severely offputting in my opinion.
Starting off with the bass, it's got a great sub-bass extension that is elevated but not overly bleeding to the lower mids like most noise-canceling headphones. Punch is ok because of all the quantity in the low bass but it's still far from hard-hitting like the Focals or Audezes. I'd say the overall quality is decent for a headphone of this type.
The midrange frequencies are a little forward on the lower end of the spectrum and a bit recessed on the other end. There's definitely some warmth there but the subdued upper mids can kind of give it a muffled character when the track has plenty going on in that area (i.e. female vocals, guitar strings, some piano tones). Thankfully there's no weird timbre or edginess but some may find it lacking there.
The treble frequencies are quite uneven. It remains a little subdued in the lower treble which means there's no harshness at all (perhaps taken too much). On the flip side, it is a bit too shimmery and excessively airy which can sound a little artificial or breathy at times.
As for the stage and imaging, it is a typical sealed wireless headphone quality which is not surprising. The closed nature and the suction effect that the noise-canceling tech provides add up to a very much in-your-head type of sound. Detail retrieval is likewise the same. It somewhat lacks the snappiness or incisiveness that you can usually get from a headphone with a similar tonal balance.
I was not able to try it in wired mode as there are no cables included in the box and I wasn't willing to fork in an additional 2,000php ($50).
Overall, I find the Airpods Max more than serviceable when it comes to casual music listening while using it for work. Definitely expensive for the sound you're getting but hey it's a wireless headphone, and it's an Apple product.
Quick comparisons
Drop THX Panda – Quite similar tonally but the Airpods Max is slightly more agreeable with better bass overall. Personal preference goes towards the Drop THX though as it has a better overall sense of speed and a more spacious sound and better imaging. More 'audiophile-friendly' if that's a thing.
Sony WH1000xm4 – The Airpods Max is much better tonally but the XM4 can be EQ'd through an app. In my limited time with the XM4, I didn't really find the Airpods Max to be superior in terms of technical capabilities so if EQing, the WH1000xm4 is the better value sound-wise than the APM.
Bose NC 700 – The NC700 is more spacious and has less of that upper bass bloat I'd say, but it's disconnected sounding with hollow upper mids and more pronounced lower treble. I prefer the Airpods Max easily here.
Conclusion
First of all, would I buy these headphones if I have the money to spare and I'm looking for wireless noise-canceling headphones? I probably would! I'm a sucker for headphones with superb build quality and decent stock sound. Not to mention its noise-canceling capability is one of the best out there currently.
Now would I recommend this one? I probably wouldn't because there are better values out there considering the Airpods Max isn't the clear very best in the ANC dept. It's very good but not the best. The same goes for its sound where its edge gets neutralized with the use of EQ which is easily available on most of the competing products. The battery is probably the worst when compared to other noise-canceling flagships, comfort and aesthetics are not for everyone, and in the end, we can easily say it's less worth it for the price that you're paying. If you are in their ecosystem though, it might be a no-brainer since this is the only over-ear in their line.
That's about it for the Apple Airpods Max review! I'd love to hear what you think of this product so sound off in the comments section below.
Comments
comments