I love headphones that sound neutral and accurate, period. It just brings out the 'enthusiast' inside me whenever I'm listening to a piece of equipment where I can hear the music as a whole with very little to no coloration. That's why when I learned about Etymotic many many years ago I knew it would be a match-made in heaven and it was. But how their top-of-the-line ER4PT fares to the general consumer is another story.
Overview
Etymotic is known as king of neutrality and accuracy and these qualities are in all of their earphones. As makers of hearing aids, Etymotic sure knows what they're doing and more importantly they themselves are accurate about how they make these earphones.
Etymotic ER4PT is their most expensive IEM costing about $299 and the price doesn't fluctuate that much on Amazon compared to other headphones or earphones. Aside from the ER4PT, I also owned the HF5 which I reviewed and the discontinued ER6 which shows my love for their sound signature.
The earphones do look old-school and may not suit most people's tastes: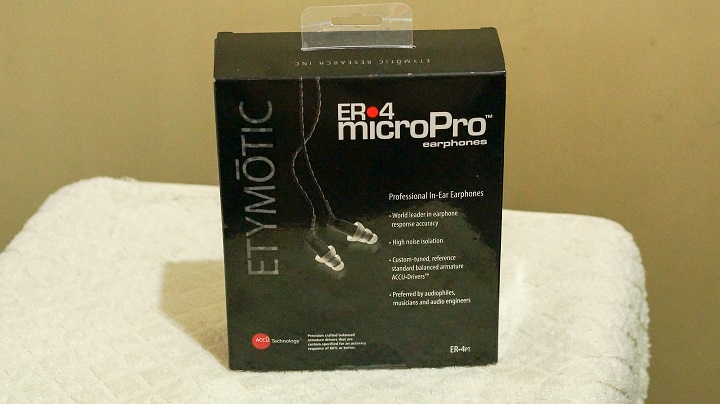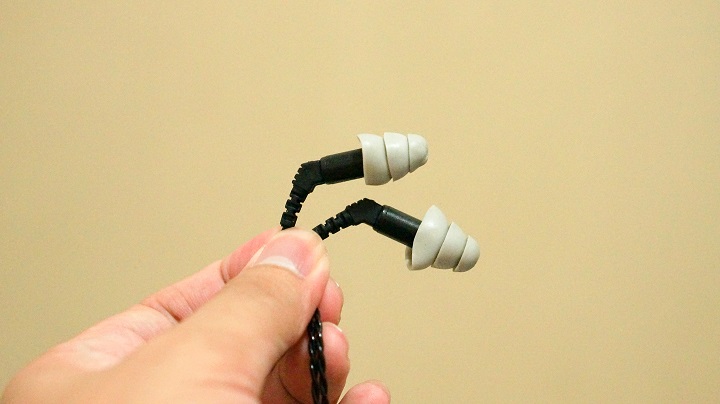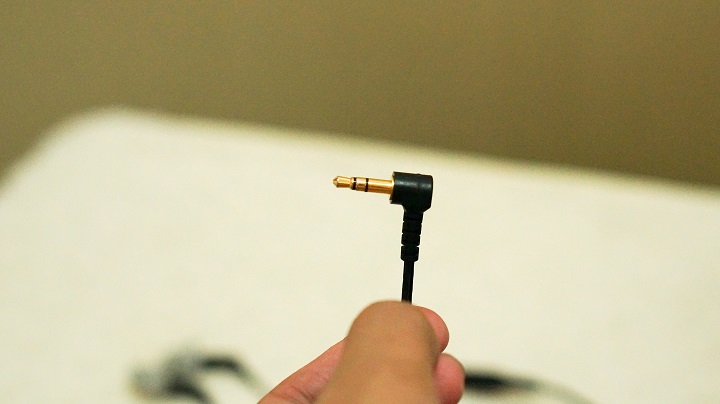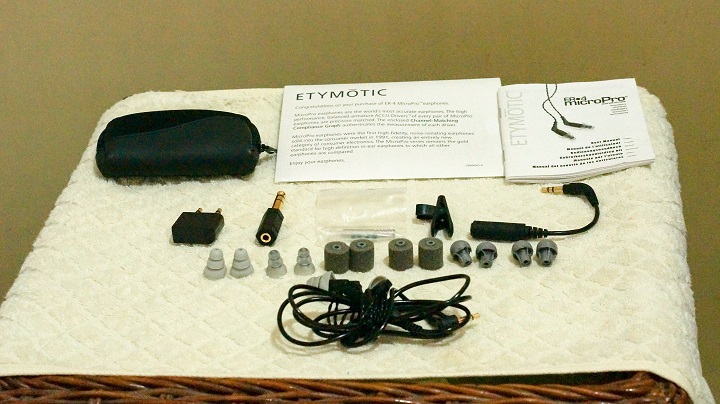 Packaging & Build Quality
As you can see in some of the pictures, the ER4PT comes with a lot of accessories. But before that, it is worth-mentioning that this model is a combination of the discontinued ER4P earphone and the ER4S. The former is a portable version while the latter is for professional use as it is less efficient at 100-ohms but is even more accurate-sounding.
That being said, the included adapter is what makes it possible to combine the two. The ER4S adapter is a short plug that can be connected to the earphone itself and this makes the earphone an ER4S model. Aside from the adapter, it also comes with a bunch of accessories namely 3 sets of triple-flange tips, 2 sets each of of foam-tips and glider tips, a couple of filters and a filter removal tool, a carry case, a signed channel-matching compliance paper, a shirt clip, an airline adapter, an 8-inch to quarter-inch adapter and finally the user manual. So yes it's quite a lot which is always nice.
The overall build is very good for an in-ear monitor and I quite like the braided cable and the thick cord halfway down. The plug is angled 90-degrees which means there's less strain when plugging it in your phone or mp3 player that's on your pocket. The earphones themselves look quite durable and the braided cable seems to make it more rugged.
Isolation & Comfort
Passive noise isolation is by far the best that I've heard for an in-ear monitor. Because of the very deep insertion that this earphone requires, you will almost hear nothing once it's sealed up. That being said, hearing almost nothing is dangerous if you're using it while walking around or basically on the go so that's something to keep in mind.
Due to the deep insertion, this earphone is uncomfortable especially if you're not that used to with getting something inside your ears. It's especially uncomfortable when you're wearing it while walking around since the cables are somewhat heavy due to the joint in the middle that connects the braided cable to the bottom half. After sometime it feels like it's dragging down the earphones itself from your ears.
It unfortunately also has microphonics whenever the cable rubs against your shirt and that can be really really irritating. As a whole I've gotten used to these drawbacks but I don't also really use the earphones that much when I'm walking or moving around. All in all it is definitely something you have to greatly consider with the ERPT or all Etymotic earphones really.
Now with all these comfort issues, can the ER4PT redeem itself with it's sound? Flip the page and find out.
Page 1 – Packaging & Build Quality
Page 2 – Sound Quality & Conclusion
Comments
comments