The time has finally come and the headphone giveaway that you've been waiting for is now here! In this giveaway, we're giving not 1, but 2 good-sounding headphones! Are you ready to win yourself a good-sounding headphone this year? Continue reading below to learn more about the details.
The contest theme is "Win yourself a good sounding headphone" and it's brought to you by yours truly Headphone Philippines and AKG Philippines whom we partnered with in order to bring you this amazing giveaway. Here's the contest poster: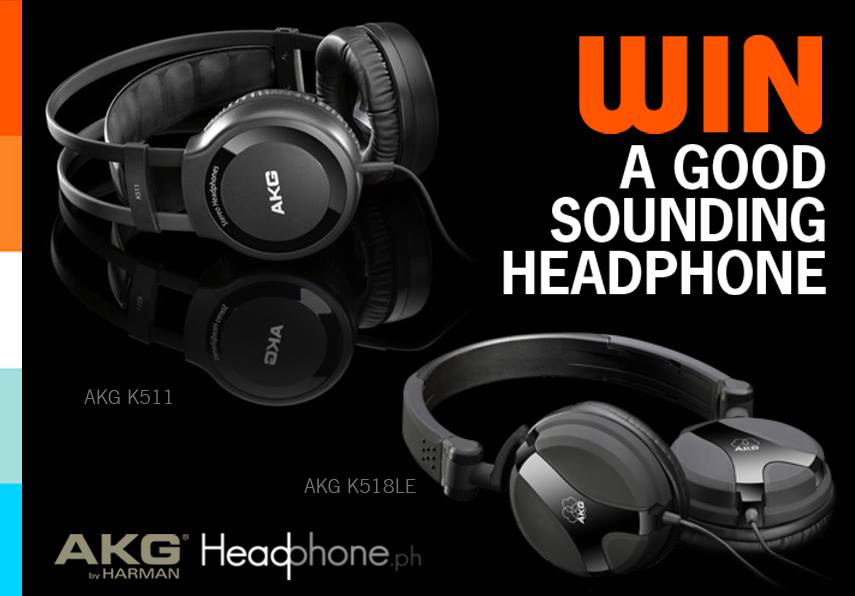 Prizes
Let's start with the prizes first. We're giving away two headphones here. One is the AKG K518LE which was reviewed favorably here recently and the other one is the AKG K511 headphone. While far from the AKG's top-of-the line cans, both headphones are competitive in terms of sound quality for their respective price range and are highly recommended.
Contest Mechanics
The contest is simple and joining it is very easy. Here's an explanation of the requirements that you need to do in order to qualify.
Answer 3 simple questions – There would be 3 simple questions related to music and headphones that you need to answer first before you can continue.
Follow and Like Headphone.ph on Twitter and Facebook – You need to follow both our Twitter and Facebook account to qualify.
Follow and Like AKG Philippines on Twitter and Facebook – Likewise, you need to follow the social media accounts of AKG Philippines who were gorgeous enough to sponsor the prizes.
Share this contest to others on Facebook – We would be providing a link that you can share on your own Facebook wall. For this, all you need to do is hit the 'Share' button on Facebook and have our contest post on your FB wall.
But wait! All the requirements above are to be fulfilled and completed through a tool called Rafflecopter (see widget below). The reason is we want to track the entries easier and select the winners more conveniently. Ready to join the contest? Start filling out the information below:
The requirements are mandatory which means you have to do them ALL to qualify. That should not be a problem though as each of them can be easily done. 🙂
Now you might be asking what if I'm already following  (or have liked) AKG PH and HeadphonePH before, do I still qualify? The answer of course, is yes. Just fill out the widget above with all the details of the accounts that you used and you're still good to go.
This contest runs from January 18 – February 18 2013 and the winners (which are drawn randomly) will be announced a day after the contest has ended. You should also keep on checking us out here and on social media for some additional ways to gain more entries throughout the duration of the contest.
Finally, this contest is only open for residents of the Philippines. The prizes would also be ready and shipped within 15 days from the date the winners are announced.
Good luck everyone and we're looking forward to your entries!
Comments
comments