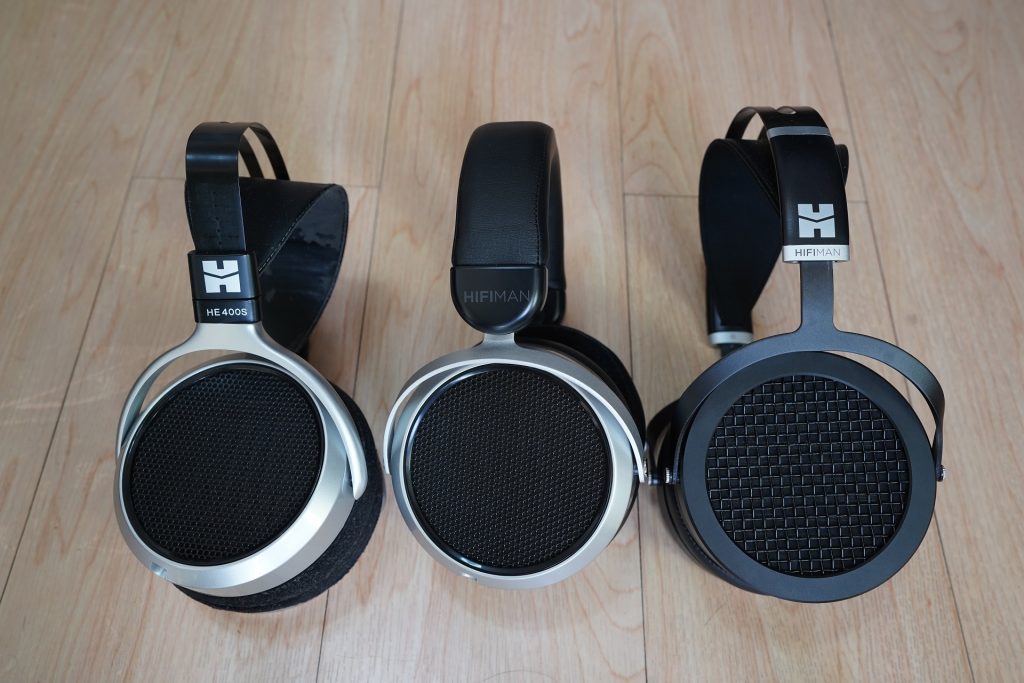 Sound Quality
The HE400se is Hifiman's 5th headphone in their 400 line and I've heard most of them so I expect a certain sound signature for the headphone. What I'm unsure of is how Hifiman is positioning the HE400se considering it's significantly cheaper than all the previous HE400 headphones with the exception of last year's version. I'm gonna say right away the HE400se is an exceptional value sound-wise and easily trumps those older headphones.
The overall tonal balance of the HE400se is similar to the Deva with a slight tilt towards the upper frequencies making it ever so slightly colder than the warm Deva headphone. Bass extension is pretty decent though it does lack the bass shelf that the Harman target curve suggests. Still, I like the overall bass punch of the 400se which complements its signature.
It does not have a bloomy mid or upper bass so its transition to the mids is superb. No feeling of congestion whatsoever though the mids don't sound as warm as say the Sennheiser HD6** line of headphones. The midrange is pretty linear before it goes a bit down around the middle and upper mids area which is typical of Hifiman's tuning.
Again, this may make the vocal presence not as intimate and warm but that also means there's no honk or nasalness that could come across if those are areas are boosted instead of dipped down. Still, some may find his a bit recessed or even dry if the preference is more towards a meatier response around this area.
The treble frequencies are ok. It's got some artificial sharpening going on but it's well-behaved and not what I would call sibilant or harsh. The mid and upper treble reminds me a little of the Beyerdynamic DT880 where it's brittle and metallic sounding though not as much.
Some may find the treble bothersome after some time but I personally did not have any issues with it. I can go on and on with my nitpicks on the HE400se's treble quality but that would make us forget this is a $150 headphone. I would say for that price, the overall resolution is superb and one that I have not heard with similarly priced models.
The soundstage has decent width and those coming from sealed headphones would notice the open sound. From memory, it is similar to the Deva and 400i's stage which I think is enhanced by the mostly flat sound signature. The HE400se's availability to image is just ok. I find that it is a little smeared but also not as noticeably layered as for example the more expensive Sundara or HD660s. That might be asking a bit too much for the price though.
Details come across nicely as well and the articulation in how it presents all the frequencies is pretty good for the price. No, it doesn't come close to those same two headphones that I mentioned but it shouldn't have. Dynamics is also ok. It does have that same softness as with the Deva but I think it manages to be more lively and aggressive sounding than that. I even feel it punches harder in the bass compared to the significantly more expensive Hifiman Arya.
Efficiency & Scalability
The HE400se has a low sensitivity despite a low impedance rating of 25 ohms. A full volume on my smartphone can only yield me moderately loud listening. It does sound ok and still passes as a decent sounding headphone, but the volume may not be enough for most.
When I plugged it in my Monoprice THX 887, the sound became noticeably better being less dry and more controlled. I highly suggest investing in an amplifier when using these headphones. Doesn't have to be an expensive one though especially nowadays with so many good options available.
Quick comparison with other headphones
Hifiman Deva – Very similar to the HE400se from memory, but the latter is more neutral and lively sounding with slightly better dynamics.
Hifiman HE400i – The HE400i is kinda similar but it has a more recessed midrange and also some shrillness in the lower treble that is quite annoying. The combination of those two equates to a rather uninspiring listen relatively speaking.
Hifiman HE400s – I got access to this one around the same time as the HE400se so my comparison might be more accurate. The HE400s is warmer and smoother sounding but it does roll off early in the bass. It's also a tad too warm that I would call it a little wooly sounding.
Hifiman Sundara – Unsurprisingly a leveled up HE400se. Has better dynamics, a better midrange tone, and a less bright but accurate treble. Better overall technicalities easily.
Beyerdynamic DT880 (250 ohms) – I still have this one so I thought I'd add it to the list. The DT880 is just no match here. It's got a thin metallic treble and a midrange that lacks warmth. Easily the more sterile sounding among the bunch here. I'd maybe give the staging and imaging edge to the DT880 though.
Conclusion
I hate to give a recommendation so resounding but there's just no way around it. The HE400se is a great value and one that gets you into the hobby without breaking the bank. It's just a great-sounding headphone for the price and has no comfort issues or any design flaws. If you are coming from a sealed headphone around the sub hundred or even 200 range, I think you'll enjoy the sound of the HE400se.
Perhaps its single drawback is not being efficient enough to sound loud off a portable device so an additional investment for an equally cheap amp can do wonders for it.
Is it the best value in the headphonedom? Well, how do we even determine that? I would say though that if you have more than $150 and have the patience for a potential wait time, the Sennheiser x Massdrop HD6xx is another great option at $200. That headphone is different than the HE400se but it's a smoother overall listen and also scales much better with better gear.
If you like Hifiman as a brand and have your eyes set on it, you can consider getting the Deva which has an added wireless convenience, or just jump straight to Sundara (separate review to come soon).
The HE400se is already a great deal at $150. It is more so at its current sale price of $129. Get it before the sale ends!
Comments
comments