I've reviewed some noise-canceling headphones in the past and while they're far more expensive than their non-NC counterparts, the convenience that it gives people who need them far outweighs its cost. If you are that person who travels and has a real need for it. How does it fare for the rest of us though? It depends on how much value we're placing on its specific features.
We have the JBL E65BTNC today and we'll find out if this headphone ticks as many boxes to satisfy a wide variety of users.
A quick shout out to JBL Philippines for sending us this headphone for review.
Overview
The JBL E65BTNC is a full-size Bluetooth noise-canceling headphone from JBL and is part of their E-series, a product line consisting mostly of Bluetooth headphones and earphones. The E65BTNC is at the top of the list and retails for 8,999 pesos (roughly $200)
The unit that I got was the white version and it looks a little plain and utilitarian as opposed to stylish which is probably good. Have a look at some of the photos: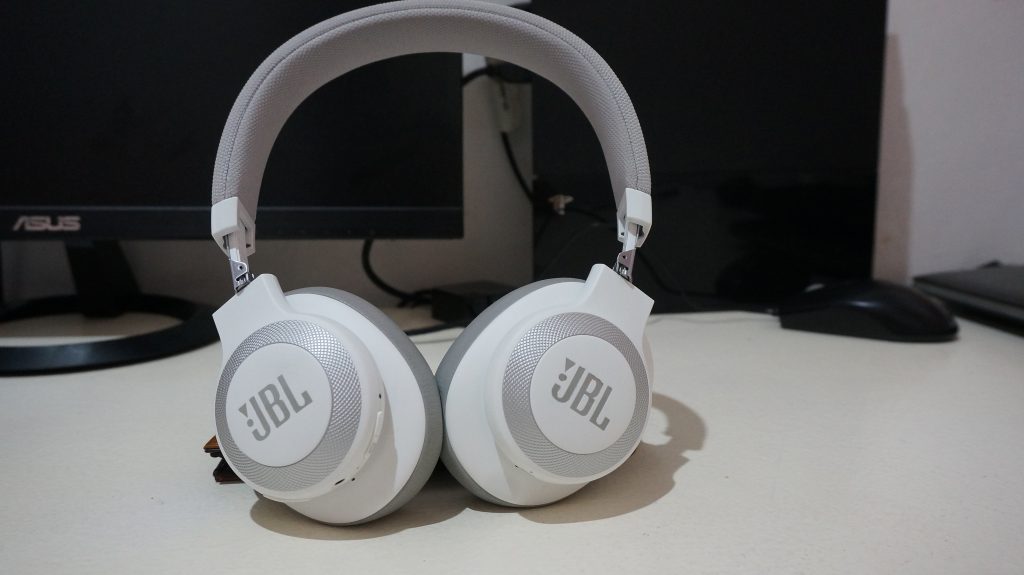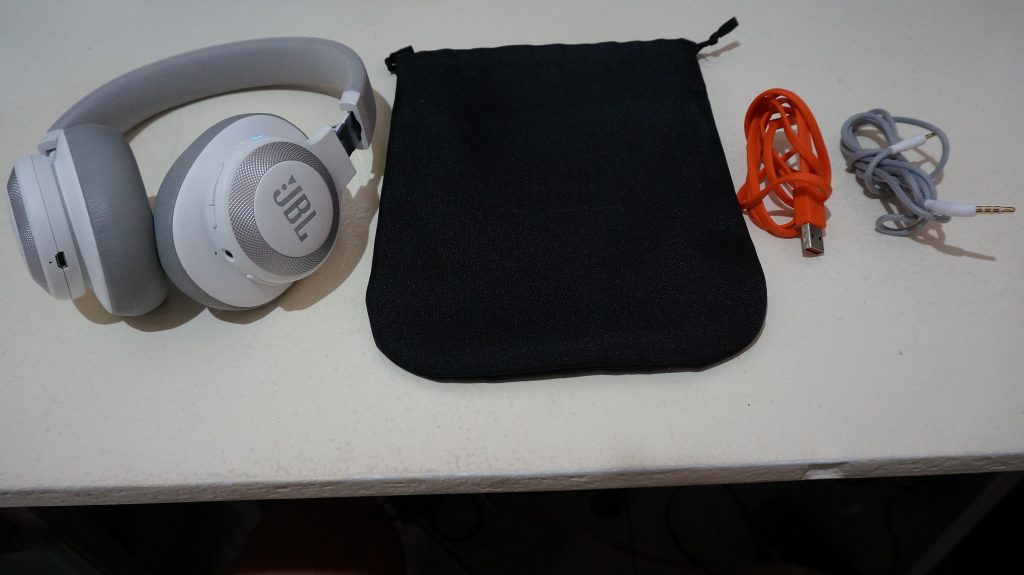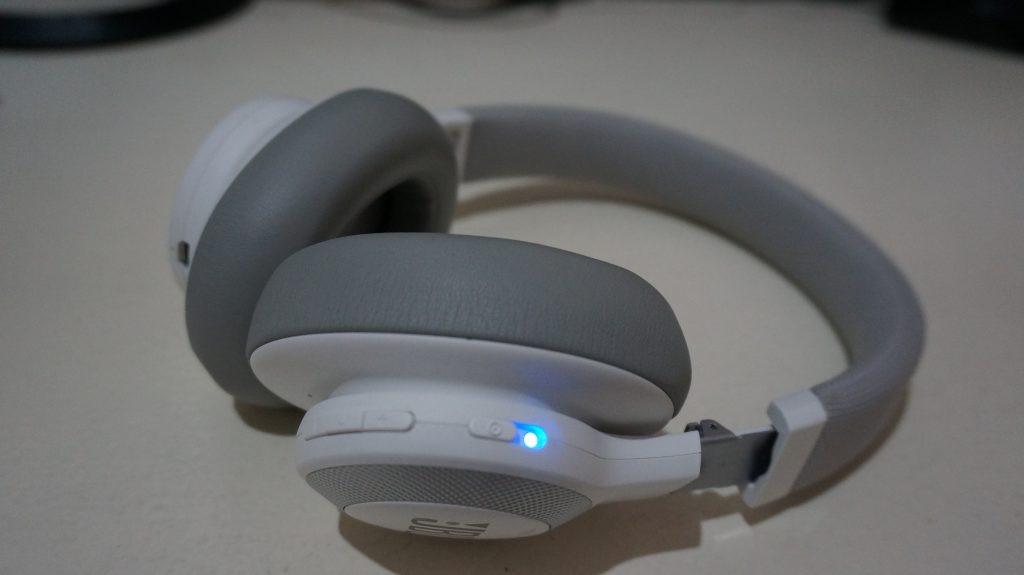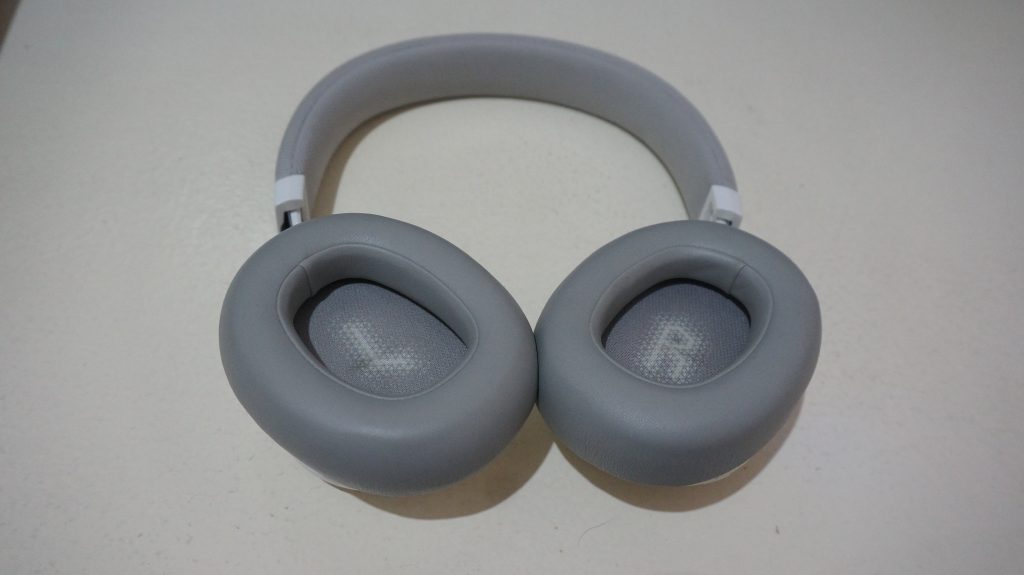 Packaging & Build Quality
Packaging is typical for a headphone of this type and price. It's packaged in a white box and comes with few accessories like a soft carry pouch, a 3.5mm cable, and a stylish micro USB cable in orange color for charging. Yes, the headphone can be used passively if you decide to not use them wirelessly or have the noise-canceling feature turned on so this is nice flexibility that quite frankly all headphones of this type must-have.
The E65BTNC made of plastic just like most noise-cancellers out there in this price range. It feels pretty sturdy overall but the rigidness of the headband kind of makes me a little uncomfortable to stretch them around too much when putting it on my head. It doesn't feel as flexible as I'd like however I did not encounter any problems at all in my full 3 weeks of using the headphone.
The cable attaches to the left earcup if you want to use it passively or have run out of battery. It's wrapped in some kind of fabric making it more durable but in return would be some microphonics when rubbing off your clothes. No big deal though.
Isolation and Comfort
Comfort is ok. It's a little tight as it should be so it can effectively weed out outside noise. Once I get used to it though I didn't feel any more discomfort but this is no feather-light. You definitely feel it hugging your head but it's not as bad as others that I've tried.
I don't have much experience reviewing noise-canceling headphones but I can say this one does a pretty decent job with its active noise cancellation. I've tried some Bose and Sony's in the past and while I won't say it's not as good as those, most people should be able to get satisfied with this.
What I think holds it back is its subpar passive noise isolation. The earcups don't seem fully closed as it lets more outside noise in than what I'd like. Active noise-canceling usually cancels out low-frequency noises and in E65BTNC's case, I feel like the passive noise isolation holds it back a little. I don't know if the earcup design is indicative of it as it has slightly open earcups but I wish they sealed it more for better passive isolation.
Floor noise is also more audible than some of the old BTNC headphones that I've tried. What it means is if there's no noise being canceled (i.e. quiet environment), you tend to hear static from the part that's canceling the noise. It is quite bothersome however you can very simply just turn the option off if it's not needed to be used. Almost all noise-cancellers have it though but I feel it's more audible in E65BTNC compared to some cans that I've reviewed in the past.
Pretty mixed bag so far but let's go to probably the most important aspect of a headphone review, even for this type mind you.
Page 1 – Packaging & Build Quality
Page 2 – Sound Quality & Conclusion
Comments
comments