The Quiet Comfort 35 is arguably the most recommended noise-canceling headphone for the better part of the last decade but competition has been strong in the past two to three years with competitive offerings from Sony, Sennheiser, and Microsoft. Bose did release the Noise Canceling Headphone 700 which I've reviewed here but they also made some small upgrades to QC35 as opposed to completely retiring the line as what some may do. In this review, we'll find out how the QC35ii fares with the competition.
Overview
The QC35 is a full-size wireless noise-canceling that retails for 22,500 pesos locally (around $250-300 on Amazon). It originally came out in 2016 and was subsequently upgraded sometime in 2017. The addition was a customizable action button on the right part of the earcup that is mapped to Google Assistant by default.
The headphone is unsurprisingly elegant-looking in an understated way. It doesn't scream at you and the color options of black and silver are perfectly suitable to the target market of this headphone. Here are some photos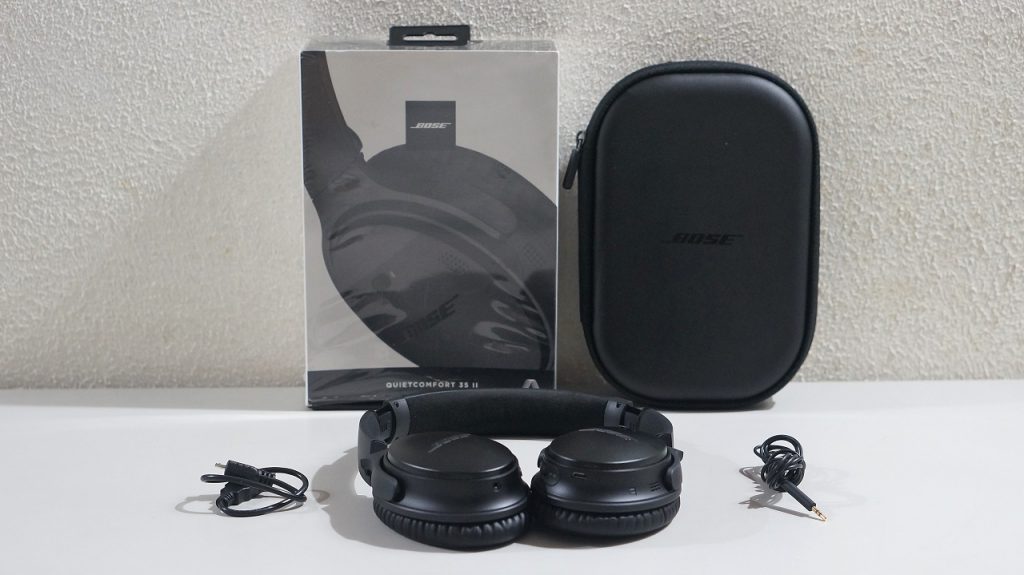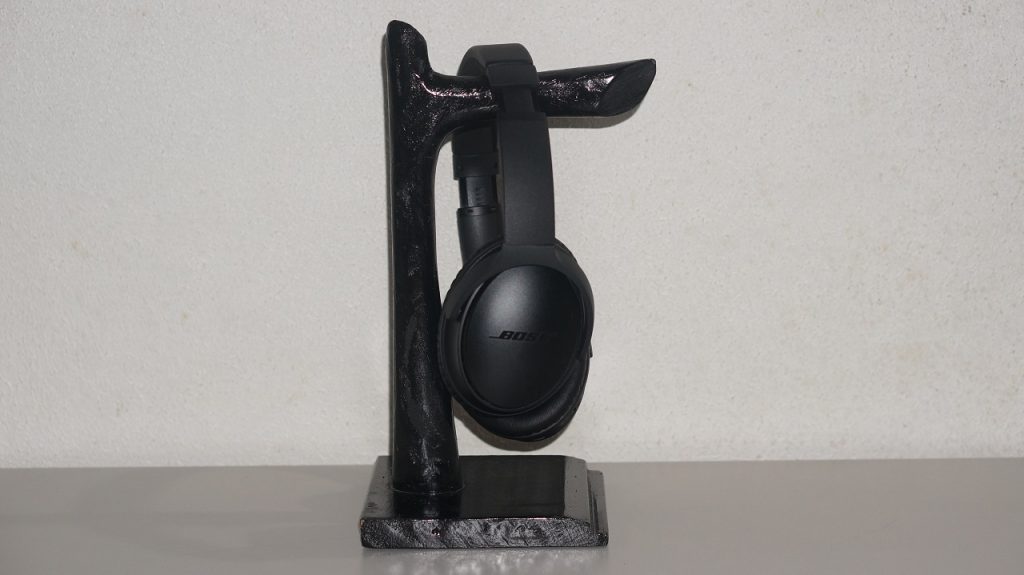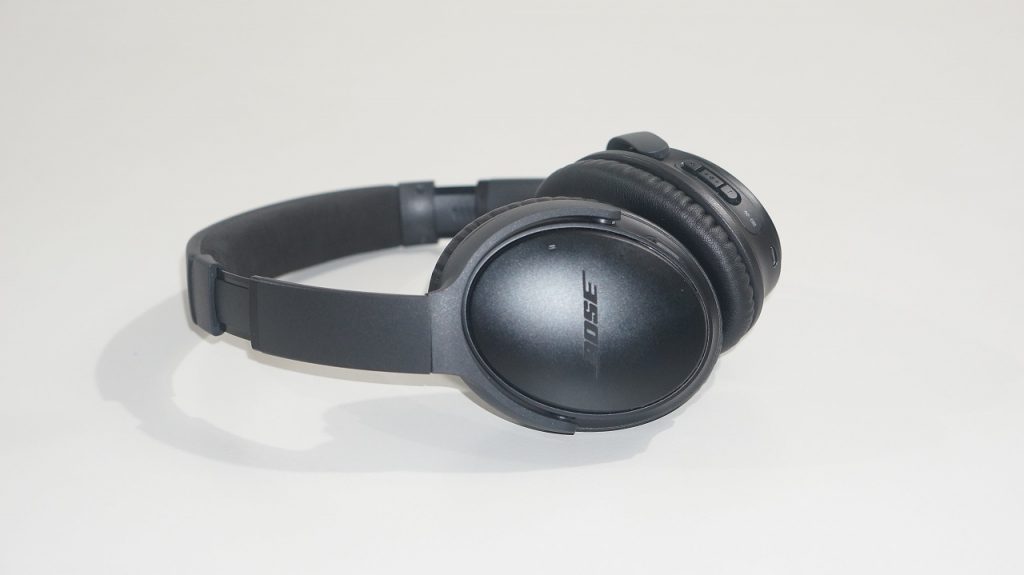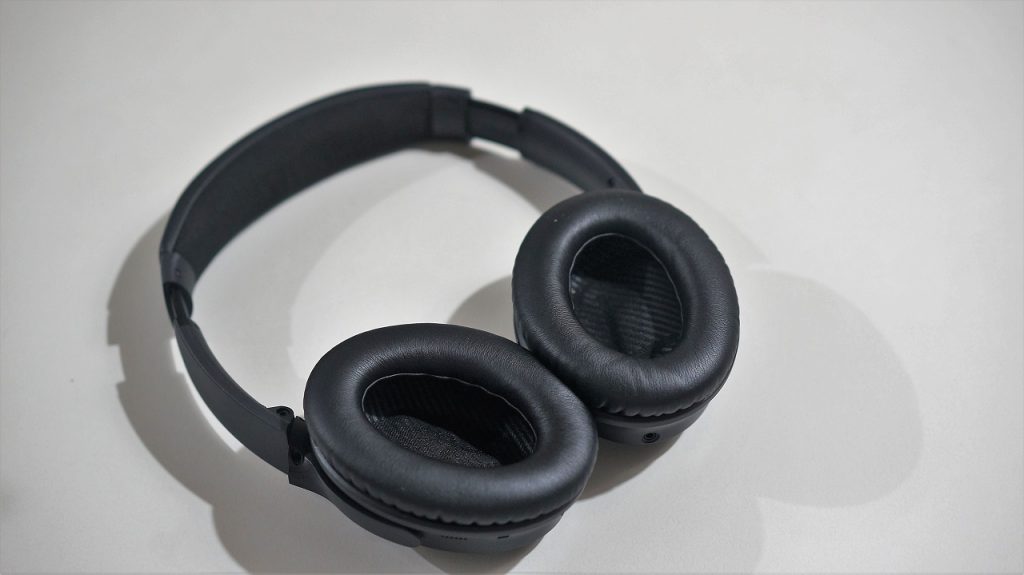 Build Quality
Even for a full-size headphone, the QC35 is light and compact without sacrificing comfort. The materials are plastic but it feels quite well made. The headband padding and ear pads are both soft synthetic leather. The headphone also folds which allows it to have an even smaller form factor when transporting.
It comes with a nice hard case, a charging cable, a 3.5 mm cable for passive use and an airline adapter.
The QC35 has traditional buttons in place of touch control seen in recent headphones. The left earcup button allows you to toggle noise-canceling modes while the buttons in the right earcup contain media controls, action/voice assistant & a power switch that also doubles as a connectivity button for connecting it to devices via Bluetooth.
Comfort
Like the 700, the QC35ii is also comfortable to wear thanks to its lightweight nature and soft padding materials. The earpads are maybe a little smaller than the 700 but it does wrap around my ears comfortably so I feel this isn't gonna be a problem at all even if you have big ears.
Noise-Cancelling
The noise-canceling modes consist of off, low and high and it doesn't have any additional modes if you download the app unlike the Bose 700. Using it exclusively, I feel it's very much on par with the newer model but a quick side by side comparison reveals the QC35 being slightly inferior in canceling out higher frequency noises. The 700 subjectively seems to be more aggressive in canceling out lower frequency rumblings but I really didn't think it's that much different.
What's good about this headphone is they are already quite decent in their passive noise isolation thanks to the ease of getting a good seal. So a lot of times, I am content with using the low mode while working as I find it to be sufficient enough. It might be also because I'm working from home with another person who's also just doing the same so that specific scenario isn't typical.
Battery Life
Battery life is pretty good at around 13-14 hours of use but do keep in mind this number may vary depending on your own usage. Personally I'm able to last 3-4 days on this without charging but I also don't wear headphones all day.
The voice that tells you how much juice the headphone has is quite useful as well.
Microphone Audio Quality
Microphone quality is decent for calls and online conferencing even when while in active mode but I also did not find any difference between having the noise-canceling enabled or disabled. I do wish though that the cable that comes with the headphone has an inline microphone so you're still able to use one when the battery dies.
Page 2: Sound Quality & Conclusion
Comments
comments