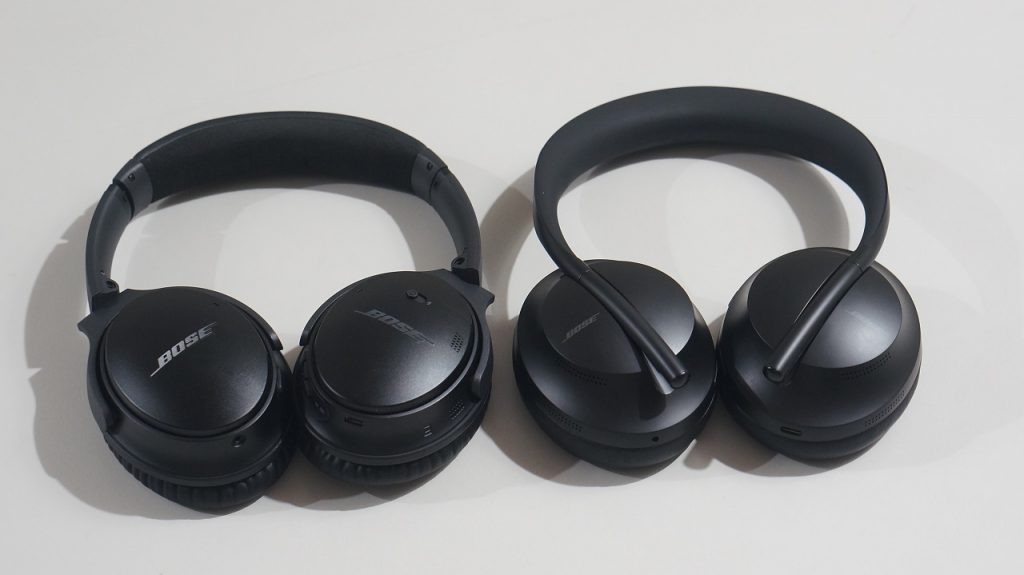 Sound Quality
The sound characteristic of the QC35ii is largely similar in all modes except passive wired where I find the quality to be noticeably inferior compared to when using the headphone in active modes (both wired and wireless). Also, I did not find any change in the sound signature regardless of the noise-canceling levels the headphone is set to.
Wireless mode
On first listen, my quick impression was the QC35 sounded like a middle of the road headphone that certainly isn't worth its asking price. I was at that time rotating it with the Audioquest Nightowl, Focal Spirit Classic and NAD Viso HP50 which was obviously not an apple to apple type of comparison. I started listening to it more exclusively, then did a side-by-side with Bose 700 and I understood why my initial impression was like that.
The Bose QC35 has a warm bassy sonic character that is not spacious, can quite sound mid-forward and has a smoothed out treble. That type of character did the trick into making me think it's your average run-of-the mill headphone. Now don't get me wrong, it doesn't compare to similarly-priced sealed headphones but it's far from bad sounding by any means.
This headphone can punch and has good level of sub bass and meatier mid bass. I feel it does bleed just a touch into the lower mids which accounts to its warm and slightly dark tonal balance. For a noise-canceler though, I find the bass impact to be quite good even besting the newer Bose 700 in my opinion. The 700 has less sub and mid bass and gives the impression that it wants to be a more balanced-sounding headphone.
The midrange is where I feel the QC35 is more cohesive sounding as a whole as it did not have the recession around the middle midrange nor did it have as big of an elevation shortly after that. As a result, I did not hear any boxyness with vocals that I heard with the 700 occasionally. I feel that the more even midrange in the QC35 coupled with more bass and added warmth contributed to a more 'normal' sounding midrange. Now granted the Bose 700 can sound more alive with instruments that are in this frequency (particularly upper mids/lower treble).
Treble is not too different from the 700. It's probably more smoothed out but less bright as a whole. This probably accounts as to why I thought the QC35 was duller sounding initially. Now I wouldn't call it significantly inferior to the 700 because the latter can be quite harsh at times which is the opposite of the QC35.
This headphone doesn't have the same spaciousness as the Bose 700 as the presentation is more intimate, almost on-ear like in my opinion. This hampers its ability to image as everything can sound quite congested.
Wired mode – active
Not much difference from the wireless active mode with the exception of slightly lesser sub-bass and seemingly softer punch. Now don't quote me on it as I feel it has something to do with how the wireless mode can sound louder than wired. The wireless mode also applies some volume-based equalizations on the fly and that might be another factor as well.
That's a good thing though since it means the sound isn't changing from wireless to wired. It becomes a viable option if you can't use Bluetooth but have spare battery left.
Wired mode – passive
As mentioned earlier, the sound here is inferior as you're losing all the internal processing in the headphone when the battery dies. There are less bass, more midrange forwardness, and a rougher sounding treble. It's not bad enough that it's unlistenable but it makes it worth keeping the headphone charged all the time.
Despite that, I find it to be better sounding than the Bose 700 in this mode. The 700 is just absolutely boxy-sounding when in wired passive mode and I feel the tonal balance there is quite off.
Conclusion
I can clearly see why the QC35 has been highly regarded in this category for a long time. Exceptional noise-cancellation, premium comfort, and a sound signature and quality that are on the safe side of things. Bose simply had the foothold during the early days that it was a no-brainer to get this for its intended purpose.
But the market got more competitive and well-known consumer brands started producing good noise-canceling headphones that also sound better and have more features. And to me, the QC35 is no longer the gold standard that it used to be for a long time.
Now don't get me wrong, I love the QC35ii but at 22,500 pesos local price, I feel it doesn't return the same type of value anymore especially if you consider newer headphones like the WH-1000XM4 costing less. Add that to the fact that it's a little outdated in terms of features and overall build, and the QC35ii starts to lag even more compared to the competition.
I do prefer the QC35ii over the 700 though as I feel the former sounds better and I like how more compact it gets since you can fold it. If you're in the market trying to get as many as possible for the price, then you can cross out the QC35ii from the list. However, if you just want a headphone that does two things well namely noise-cancellation and produces a decent (inoffensive) sound quality, the QC35ii is a good option. It's all about your priorities after all.
Visit Eleksis' page if you're looking to buy it locally. If you're living overseas, you can check it out on Amazon here.
Comments
comments