Noise-canceling headphones have always been expensive. They probably should be. Aside from the tech to cancel out noise, they're usually also feature-rich while still being housed in a compact form factor. But what if you strip it down to the basics while still allowing it to sound good? That's exactly the Sennheiser HD450 BT noise-canceling headphone which we have for a review!
Overview
The HD450 BT is Sennheiser's middle of the pack offering in their wireless headphone line ahead of the HD350 BT and behind the PXC 550-ii. It retails for $129 street price (originally $199) and is available locally for 8,990 pesos. You either get it in a black or white model and what we have is the latter.
This headphone was released just early last year (2020) so it's pretty much updated in most regards. It supports Bluetooth 5.0 & the usual set of high-quality codecs such as AAC and apt-x. It also charges via USB-C, unlike the higher-end PXC-550ii, and has voice assistant support. But it's a stripped-down version of your typical high-end noise-cancellers. It doesn't have any touch control, no noise-canceling customizability, as well as audio passthrough functionality. It's a barebone noise-canceling headphone.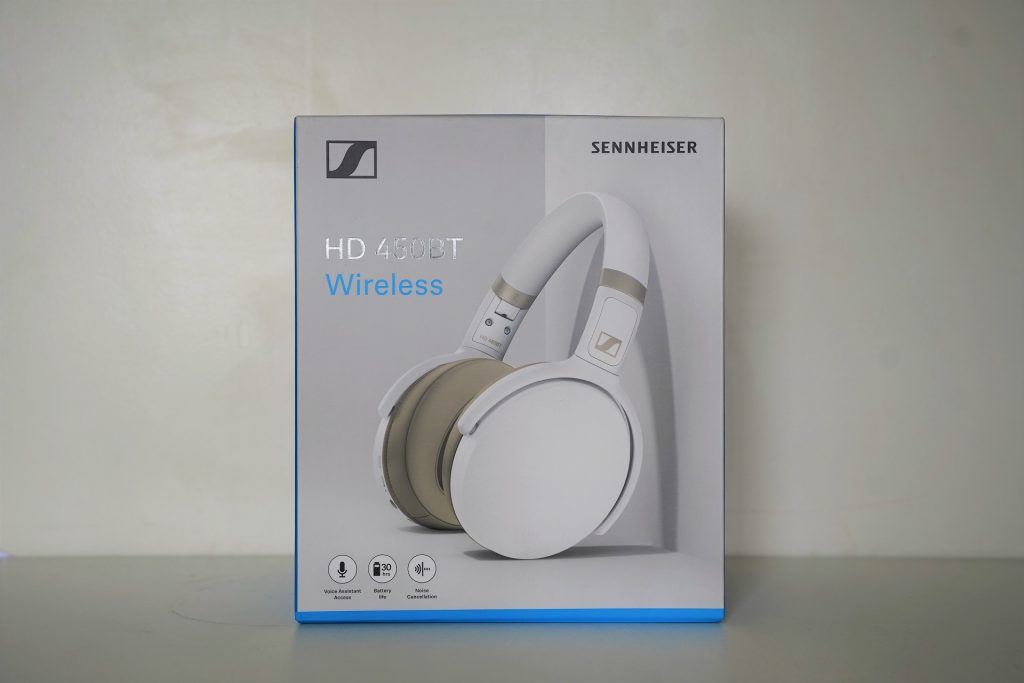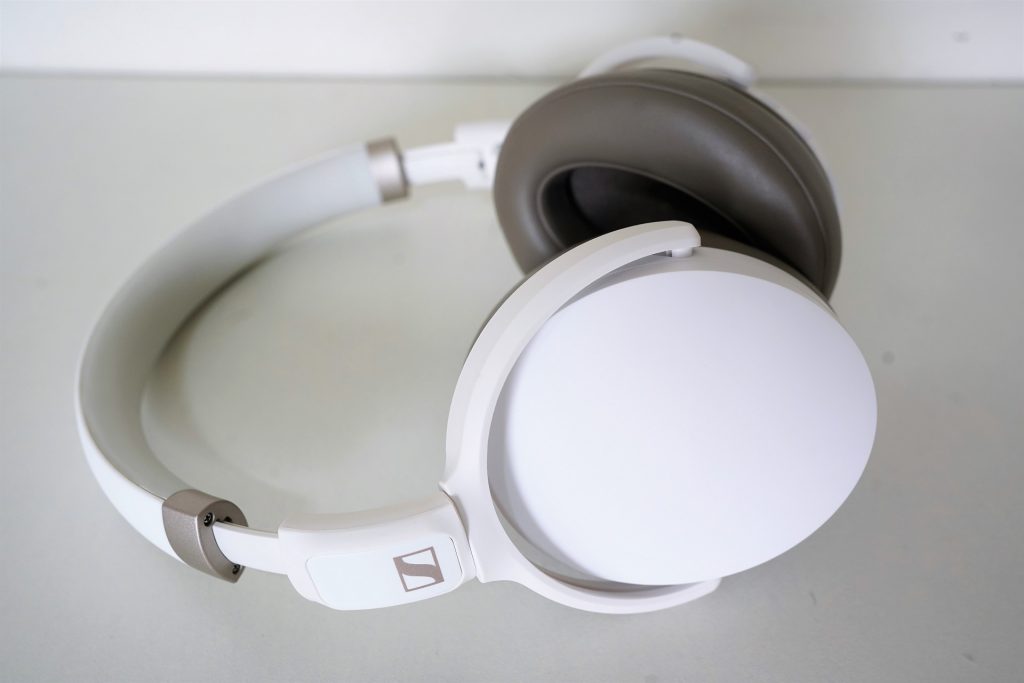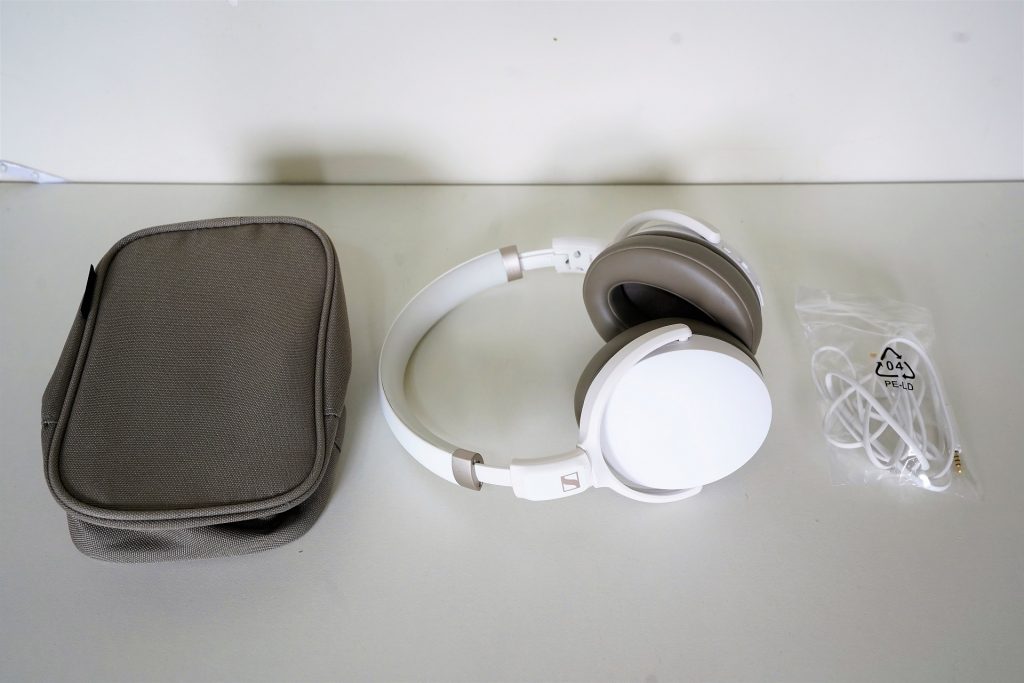 Packaging & Build Quality
The HD450 BT comes in a fairly standard cardboard box with few accessories inside. Aside from the headphones themselves, you get an audio cable for passive audio listening, a USB-C charging cable, and a soft carry case that is a slight step up from the usual pouch that you get from most $100-$200 headphones.
The construction is predominantly plastic which has a soft touch feel to it in both the cups and headband. Padding on both the pads and headband is synthetic leather but they feel quite plush. The earpads are on the small side though and while it's still an over-ear fit for me, I imagine it will be an on-ear to those who have large ears.
The short cable connects into the right earcup where the charging port and all buttons are located as well. Speaking of the buttons, you have the voice assistant, the slider for skipping tracks, volume rocker, and the power button which doubles as a pairing button like most headphones of this type.
Despite the all-plastic build, I find it to be well constructed as is usually the case with Sennheiser headphones.
Microphone Quality
The quality of the headphone's microphone is not very good but I would it's say typical of wireless headphones. It's got a radio-like quality that can still be understood but is clearly no match for in-line microphones of wired headphones or in-ear monitors. I also didn't spot any major difference regardless of whether the noise-canceling is enabled or not.
Here's a quick sample:
Comfort
The headphone is light at 230 grams so I find it generally comfortable. The headband lacks some padding which causes a bit of a hot spot for me but it's not unbearable at all. I used the HD450 BT as my main work headphone and didn't it uncomfortable but the small cups size and lack of headband padding may cause some discomfort for some.
Lastly, the synthetic pad materials mean it will get warm after some time and make your ears sweat.
Isolation
The HD450 BT does a good job in passive noise isolation. In my tests, it did a decent job blocking out low to mid-frequency noises but it couldn't do as well with high frequencies. It's not in the same boat as I remember the Beyerdynamic DT1350 and Sennheiser HD25 1-ii to be, but I thought it's better than most of the sealed wired headphones that I've reviewed in the past 12 months or so.
It is its active noise canceling capability that left me disappointed. Yes, it improved its ability to block out outside noise but not really by much. I would say the low and mid frequencies were attenuated by roughly 10-15% more but the rest are almost just the same. In the end, I felt you're not getting a good value out of what you're getting here. It is by far, the worst headphone I've reviewed when it comes to the active noise-canceling tech.
Now I'm well aware of the price but it still doesn't make sense to get a noise-canceling headphone and not get a good performance out of it. One could just settle for a good wireless headphone or even wired headphones and either save more money or get much better sound!. And for the sound, we have quite a bit to talk about as well.
Page 2: Sound Quality & Conclusion
Comments
comments