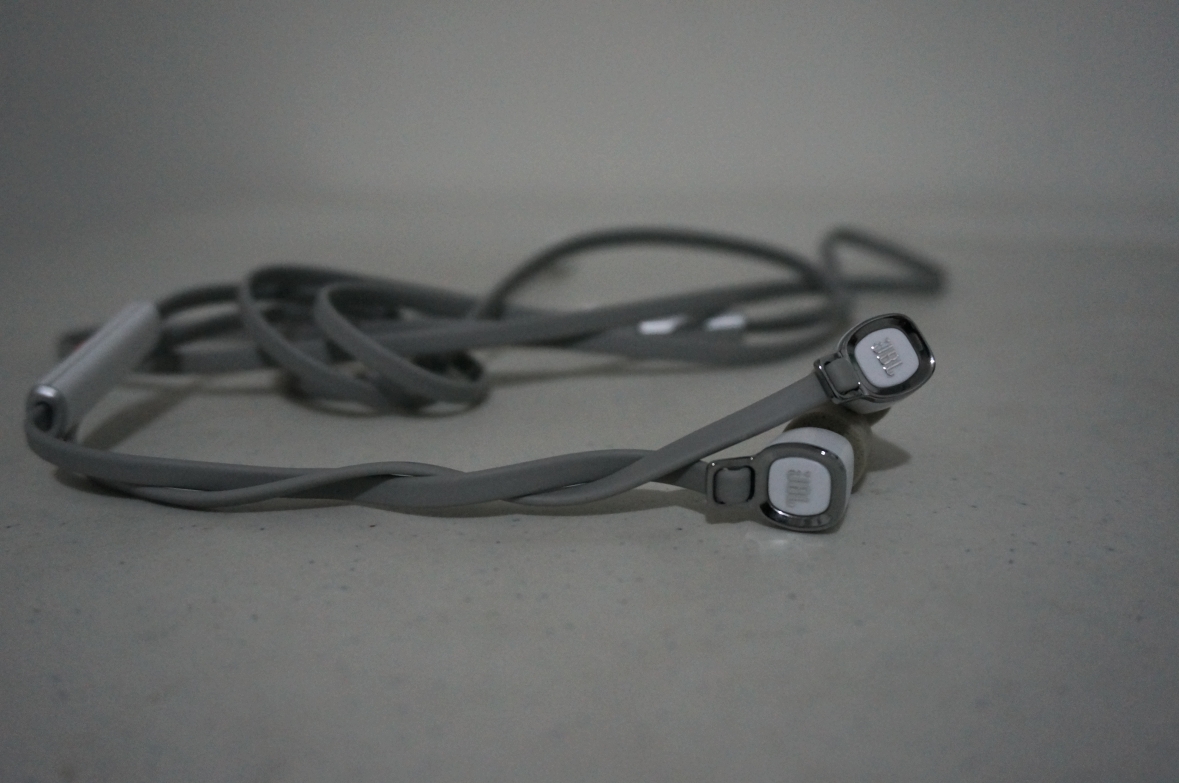 The JBL J33 doesn't look as simple as the J22 but it's still a gorgeous looking earphone. I got the white version here and the embossed 'JBL' logo looks really slick.
The packaging is identical to the J22 but this one comes with a Comply foam tips. Yay! The housing of this earphone is a tad bigger than the J22 but it still fits inside my ear very well.It also has the same flat tangle-free cable and comes with a carry case.
The weak point of the entire construction I feel is the remote control. It's made of plastic and is slightly bigger than what I'm used to seeing in earphones and headphones. It appears to be finicky too and doesn't seem to be sturdy enough especially if you're using it while lying on bed and sleeping which is what I do.
Other than that, it has this unique strain relief buckles near the housing and while it appears odd to me, it helps protect the cable more while helping dampen vibration for "enhanced acoustic performance". I personally don't have any use for it but if it helps the earphone, then it's a good thing.
Finally, isolation and comfort is pretty good with these and I can wear it for a long period of time with very little discomfort.
Sound Quality
The sound of these is very good to me especially for its price. Or maybe we can even take the price out of the equation because I feel it's pretty darn good.
The bass is not accentuated but there's a warm tilt towards the upper bass and lower midrange. All previous JBL earphones have this boomy muddy kind of signature in this area but it surprisingly is not present in J33. Very nice!
The midrange sounds lovely and lush. I've been listening to some jazz and classical music as of late and this earphone fits in very well to those genres. It's amazing because the other iems from JBL tend to sound honky here but it's not the case with the J33. The upper midrange isn't as pronounced as I liked but it's no biggie.
Treble is a little uneven sounding but is well-behaved and not sibilant. There are times where I felt the treble in this earphone is good enough and there are times where I feel it's missing. Overall I would classify the high frequency area as relaxed but not too recessed.
Another thing that I'm amazed is the soundstage. No, it doesn't have a wide soundstage that an open headphone has it's just impossible. But amongst all earphones that I tried up to date, I think this has the best soundstage. It is wide and has a slightly better depth. Now keep in mind that I haven't owned or heard the more expensive iems that could be better than these but for what it's worth, I was blown away.
Personally I find the J33 as a great alternative for my Etymotic HF5 as my go-to IEM. The HF5 is obviously leaner and faster sounding and the J33 is the slower and warmer one. Detail retrieval obviously goes to the HF5 by far but I'm not always listening to music to dissect details. 🙂
If it's not implied yet, then I do recommend the JBL J33 earphones. I think it's a good all around earphone and will please many listeners regardless of the genre they're listening to.
Page 1 – Photos of JBL J22 & J33
Page 2 – JBL J22 Full Review
Page 3 – JBL J33 Full Review
We would like to thank JBL Philippines for sending us the J22 and J33 for review.
Comments
comments
Powered by Facebook Comments