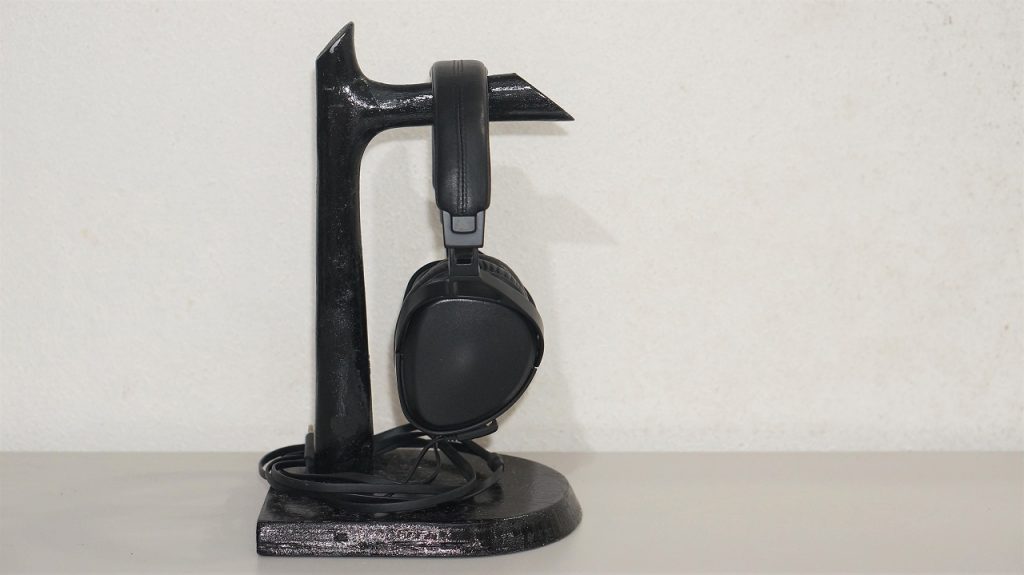 Sound Quality
I mostly used this headphone in its stock state, not EQ'd, and is often paired with an Aune T1 SE DAC or straight from a laptop or mobile phone since it is marketed as a portable headphone. Recently though I downloaded Audeze's DSP app called Reveal and that app has equalization presets for their own headphones including the Sine. I'll discuss its sound signature with that plugin later in this section.
Stock Audio
Let's just say the premium looks is matched by a premium sound quality especially for a headphone of this type.
It's a punchy and lively headphone with a tonality that is slightly bright. I say "slightly" because brightness can vary from person to person or the type of music that you're listening to. Personally, I find it to be having a neutral-ish character and a fast attack. Absolutely nothing like any on-ear headphones in the market so it is mostly gonna be reviewed in the context of over-ear headphones.
The bass response is well-extended and flat. It's definitely clean sounding and has a decent impact but because it's flat, it can be a touch lean-sounding at times in this area especially since the tonality is closer to bright than it is dark or warm. Don't get me wrong, I still find it to be planar quality bass but a boost on sub-bass and even mid-bass can make it fuller sounding in my opinion.
The flat bass signature from bass to midrange makes the voices sound quite forward, but the transition is smooth and I quite enjoy the integration as a whole. The female vocals for modern songs (e.g. Taylor Swift) can sound a little shouty depending of course on the track so that's something to consider if you like listening to modern pop tracks.
Even though it's a bright headphone, it's actually quite recessed in the mid-treble area where the consonant clarity tends to be prominent. It does go back up after that resulting in added air but that can sometimes make vocals sound breathy and a little too artificial. I personally do not find this to be a big problem.
As a whole, I do not find the Sine to be as smooth sounding in the treble as the Focal Classic that I recently reviewed but it definitely sounds livelier and has better transient response than the Focal which means percussion instruments are more lively and has quicker decay. It does remind me of the Audio-Technica MSR7 headphone and from memory, the Sine is less bright, has better bass, and is more coherent sounding. Some people find the Sine's treble to be rough sounding and while I subjectively do not agree with that, I can understand where they're coming from.
When I first heard the Sine, I was amazed at its soundstage but I, later on, realized it was because all on-ear headphones don't have good soundstage. The Sine's stage is comparable to some of the bigger over-ear closed cans but as a whole is really nothing special. It's a sealed headphone after all.
Its ability to image is quite average for sealed cans. While it's fast sounding and has a good attack, I feel the small stage and its brightness contribute to a slightly blurred or hazy imaging capability. Again, traditional on-ear cans are no match for the Sine but switching to similarly priced sealed and open over-ear cans portray the noticeable difference.
Audeze Reveal EQ
If you want to learn more about the Reveal, go check out their page here.
Audeze has fixed most of the issues with their Reveal EQ and the sound characteristic was better than stock except for a few things.
Bass gets its much-needed boost with an extra 2db on sub-bass and a super mild gentle bump around 200khz and this to me totally fixes the leanness in the bass area that can be apparent at times. It also allows the headphone to slam harder in lower frequencies without being muddy or bloated since the headphone responds to EQ quite well.
The midrange area remains the same but because of the increase in bass and the mid-treble, it makes it more relaxed than stock. So any potential vocal shouty-ness that may occur in some tracks gets alleviated without making it recessed or withdrawn as a whole.
The increase in mid-treble is needed and this makes the whole signature more energetic and alive. If anything, I find the combination of a less "in your face vocals" and increased treble improve its soundstage a little bit which I thought is quite fascinating.
All is well now for this headphone with the Reveal plugin, right? Sadly no. The increase in mid-treble to me is too much and it also retains the excessive top octave which makes the headphone even brighter than its stock form when all things are considered. Yes, the bass extension is better and more impactful, the midrange is less prominent without losing its clarity, but the treble sounds too hot for my liking unless I'm listening to just classical and acoustic music.
I like the EQ'd sound very much that I end up just toning down the higher frequencies a little and I thought it made it more enjoyable but still significantly better than the stock audio. Here's the comparison of the Reveal EQ preset and my adjusted EQ. The main difference really is just me bringing down the seemingly excessive mid-treble as well as some of the energy at 10khz upwards.


Conclusion
So because this headphone costs between $400 – $500, I find it hard to recommend value-wise unless you're going to find a used item for significantly less and that you don't have a problem with an on-ear comfort. Yes, I converted it to an over-ear which you can also do but it's not an over-ear so I have to evaluate it based on that merit.
I'm not gonna hide the fact that I like this headphone as it very much suits my taste in terms of what I like in a portable can. Its sound signature is something that I enjoy, the look is gorgeous, and it's fairly comfortable to me especially with the pad change.
As it's priced way more than what a normal on-ear headphone does, you can also consider some over-ear headphones instead if you don't mind the added bulk. You can check out our top over-ear sealed headphones page for our recommendations.
If you still like the headphone like I do, go check out the Sine on Amazon.
Comments
comments