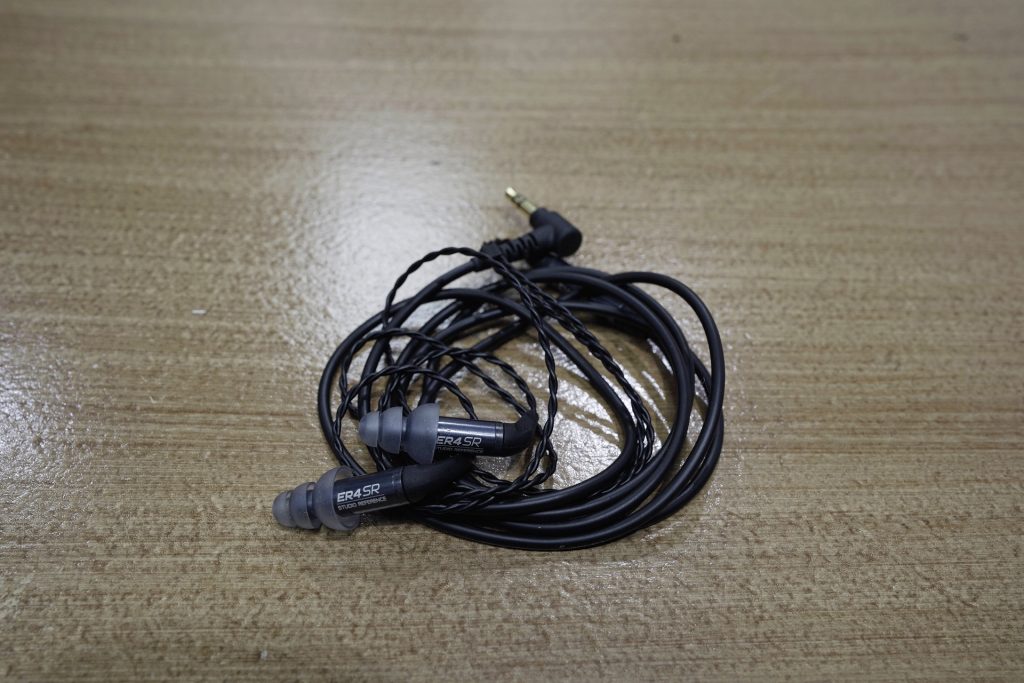 Sound Quality
Neutrality is a buzzword enthusiasts like to throw around but I don't think it's ever been objectively defined. If I'm gonna have to describe the ER4SR's sound without using that word, I would say it's a very linear-sounding earphone with plenty of detail, good clarity but a little bass-shy and lacking bass impact. It is however not lean, cold, or clinical sounding as I think some people say.
Starting with the bass, the sub-bass extension isn't the best but it's there. The mid and upper-bass has absolutely no bloom or bloat, however, the earphone is in no way lean-sounding The punch is more of a slap but it possesses incredible speed. I have not heard a lot of earphones or headphones that portray double pedal drums as satisfyingly fast as Etymotic earphones.
The midrange is nicely-textured and a little forward giving voices more 'throaty-ness' for that extra clarity. Midrange detail, especially in the upper mids is very good and to me strikes that nice balance between slightly being emphasized and being almost shouty.
The treble frequency is plenty on ER4SR without being peaky, harsh, or sibilant. It hinges on being slightly bright because of the low bass level and the upward tilting nature of the frequency response. The treble quality is very good though, not exhibiting any grain nor an extra tizz up top.
Its soundstage is nothing to write home but I thought it had a slightly deeper stage than older Ety models. Imaging is superb especially for an earphone. It's a fast sounding earphone and the lack of any significant elevation across different frequencies allow it to be really clean-sounding and devoid of any congestion whatsoever.
The ER4SR is fairly efficient but I feel it benefits a little from being amplified having used it with the Schiit Magni 3+ and Monoprice THX 887 which sort of gives it more headroom as a whole.
Comparing against the ER4PT
I still have my ER4PT to compare it to and there's very minimal difference in their sound profile as a whole. Is the ER4SR (and to an extent ER4XR) a clear upgrade over the ER4? Yes, it is.
The ER4SR has a smoother and better textured treble frequencies than the old ER4PT which can get quite fatiguing after long listening periods. The ER4SR is buttery smooth almost but without losing that detail and sparkle. The soundstage is also a little wider in the new model which is actually noticeable going back and forth between the two.
Other than those two, I find them to be pretty identical sound-wise.
Against the ER4XR
To be clear, I have not heard the ER4XR personally but based on people's feedback, the main difference seems to be the bass quantity where it's more pronounced than the bass-shy ER4SR. This makes the model more consumer-oriented but knowing Etymotic, the bass accentuation probably won't take away the overall cleanliness of the lower frequencies and the bass-to-midrange transition.
I'll make sure to update this section when I get my hands on the ER4XR in the future.
Conclusion
The Etymotic ER4SR is a very good offering if you want neutrality, speed, and midrange and treble coherence. Its passive noise-canceling capabilities also make it a superb commute earphone where you don't really need to crank up the volume to hear your music clearly.
Again, I feel the lack of bass is overblown because there is clearly an audible amount present. It's just not the modern tuning where it's 4 to 5 DB above the rest of the spectrum. Having said that, look elsewhere if you're a basshead.
The bigger issue is comfort where I see most people just not being comfortable with the deep insertion that Etymotic earphone requires. You can get custom molds as mentioned earlier but that's an additional $50-$100 on top. that you have to be willing to shell out.
As for alternatives, I can't recommend any from firsthand experience as I haven't been actively using IEMs in general for 3-4 years or so. I read that the Shure SE535 and Westone W and UM Pro series are good alternatives for the ER4 line although they have the opposite tilt in the tonality being on the warm side of things. If you're reading this and know of a good alternative to Etymotic ER4SR or just want to share any thoughts about this earphone, drop by in the comments section below.
That's it for this review of the Etymotic ER4SR. If you're interested in the product, go check it out on Amazon.
Comments
comments