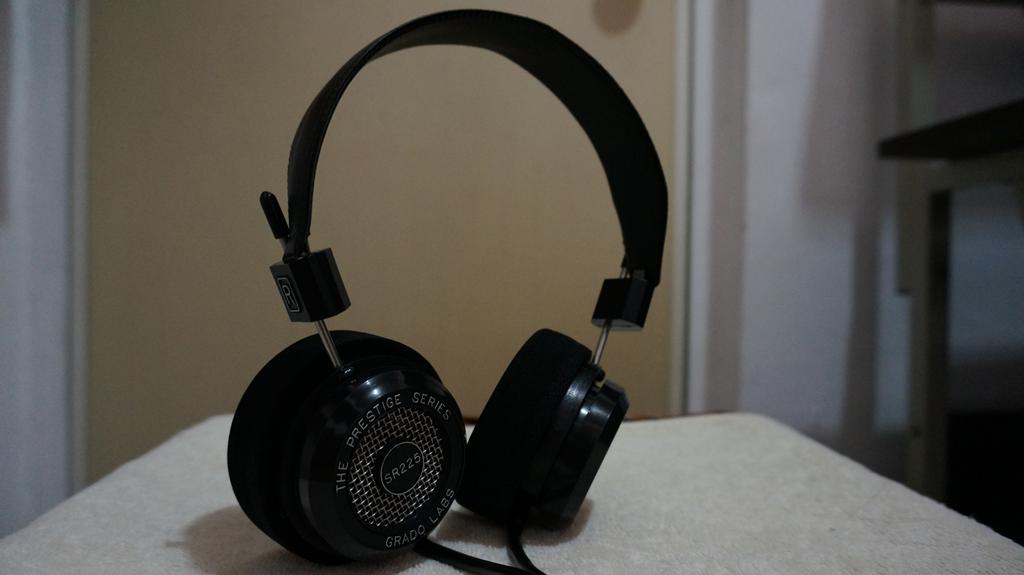 Sound Quality
Let me preface this section by saying that I don't have that much experience with open headphones compared to closed headphones. I've listened to a wide variety of open headphones only through meetups, hifi shows and quick auditions so I never really had that much experience (time) when it comes to discerning how an open headphone should sound like. Nonetheless, I'm sure you would find this review sufficient. 🙂
The bass of Grado SR225i is pretty good and tight but it lacks extension and doesn't have that much impact. The semi-open and cheaper Superlux HD 668B has an impactful bass and has deeper extension albeit a little loose-sounding relative to the SR225i. Some people say that Grado only has midbass and no subbass and I find that to be true. Make no mistake though as the bass is not severely lacking and it certainly doesn't make the headphone dull sounding in this area. Overall, the bass is quite good but I think bassheads won't be satisfied with the quantity and 'thump' of it.
The midrange is where Grado headphones shine generally speaking. The SR225i has a very linear midrange with a slight emphasis on the upper midrange and lower treble areas. The mids are simply  alive and this is where I find listening to music as if you're in a front row of a live concert description to be true. The timbre of instruments are very lively here. Likewise the voice shines in a slightly brighter than neutral way. Makes everything a touch clearer due to its slightly tilted presentation
If there's one caveat here, it's that the upper midrange can sound 'shouty' and unnatural especially on louder volumes. I find that I have to tone down the volume sometimes but this is very dependent on the tracks being played in my opinion. Reading some reviews, I did find that some people have the same impression.
Treble is good and there's a good sense of air which I did not find on my cheaper open headphones such as the Superluxes and Panasonic RP HTF600. I did not find it splashy or grainy but it's quite tizzy sounding yet is not unnatural. I would say the mid-treble going to the upper trebles are moderately tuned so the headphone won't sound too bright. The slight boost in lower treble gives it a good bite which makes the headphone aggressive-sounding overall.
Soundstage is pretty good but not as wide or big as the higher-end open headphones. Some time ago I had a listen at the Sennheiser HD 650 for an extended period of time and I find it excelling well in this area. The Sennheiser HD800 and Beyerdynamic T1 that I auditioned quickly in last year's November Hifi Show was also exceptional. From what I've read, Grado headphones don't really have that huge soundstage which I can attest to but if you're coming from a closed headphone, then I think you would be impressed with its openness.
Imaging is above average and instruments are distinguishable from each other and you can easily tell where they are when the recording is good. I did find though that the 'shoutiness' of the upper midrange and slight emphasis on lower treble decrease the headphone's ability to image. The solo part of 'Beyond this Life'  Live at Budokan track from Dream Theater easily shows this.
I compared it to Etymotic HF5 on the same track and was easily convinced that the HF5 while not providing any kind of soundstage, was able to layer the instruments much better compared to the SR225i. The HF5 has a faster decay in bass, deeper extension and a slightly more neutral treble region. As a result I did feel that the Grado sounded more confused on the particular passage when compared to HF5. The SR225i though gives a more concert-like experience due to its bigger soundstage (IEMS don't have soundstage as well).
Both are very good fast-sounding headphones but with different specializations.
The headphone plays plenty loud on portables which is nice for an audiophile on budget since you won't have to spare an extra $ for an expensive headphone amp. One of these days  though I will try it on a desktop amp and see how it scales up.
Conclusion
In most of the reviews here, I had to think of how I can inflate the conclusion part but I won't do that here.  I happily recommend the Grado SR225i to anyone who wants to move up a bit and experience the goodness of an open headphone sound. The entry-level SR60 and SR80 are also good for starters but the level of refinement the SR225i makes it better even for the price.
My two cheaper open headphones in Superlux HD 668B and RP HTF600 are competitive sound-wise, but they're not comparable in airiness and openness.
So get the Grado SR225i now if you can. If you have experience with this headphone or have any questions or feedback, then let me know in the comment form below.
Comments
comments