It really is no secret that the law of diminishing returns kicks in hard the more expensive the headphone gets. And at roughly $4,000, the value is just terrible, let's face that. But we are audiophiles so none of that matters in the end. Being able to try out headphones like the Focal Utopia that we have today is what we live for.
Quick First Impressions
I'm gonna save the nitty-gritty details in the full review as I want to really spend as much time as I can with the Utopia. I'll go through each aspect of the headphone in a 'stream of consciousness' style so I apologize it comes across as random or a little unorganized. Also, it will mostly be compared to the Focal Clear (full review) since it's the only headphone that I have access to at the moment.
So the Focal Utopia costs a whopping $3,990 which is equivalent to around 200,000 pesos here. The build is all a sizeable step up from the Focal Clear and as a result, it makes the Utopia heavier though not less comfortable thanks to premium materials used in the padding and earpads.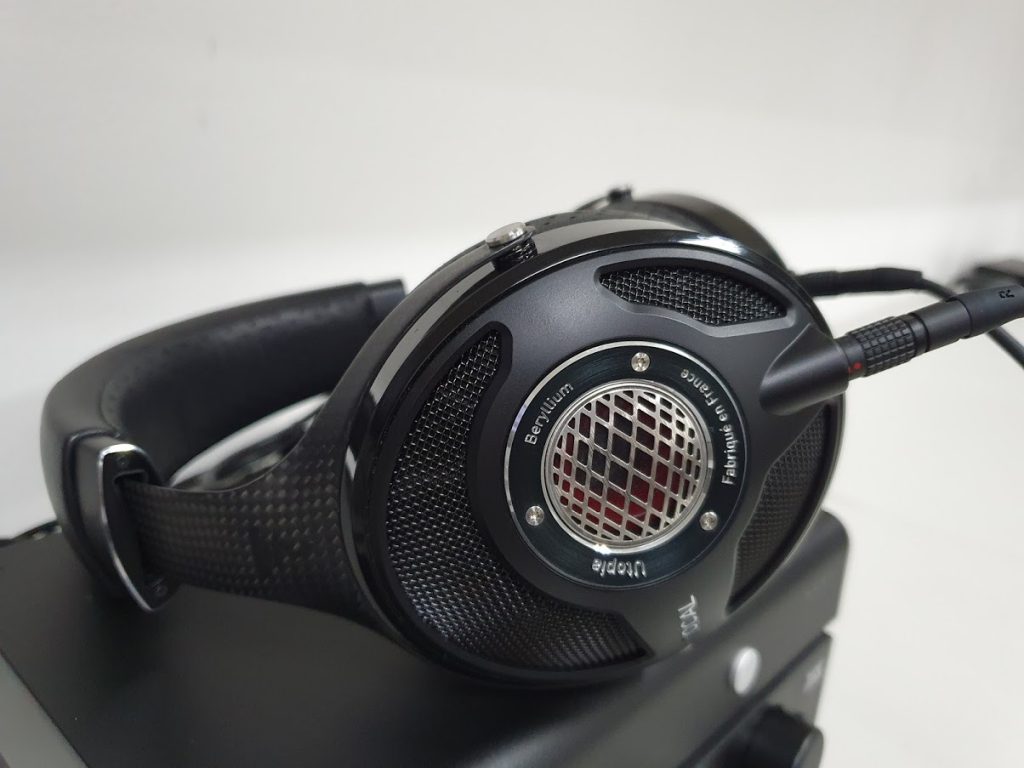 The version that I've got is the standard one and it only comes with a high-quality 9-meter cable but it's heavy and too long in my opinion. It makes use of a proprietary Lemo connector which is not common so replacing it with aftermarket cables isn't as straightforward.
Let's cut to the chase. What are my initial sound impressions of the Focal Utopia?
Sound Impressions
This isn't a new headphone so I've read plenty about it and have an idea of how its sound signature is like. When I first put it on, it kind of validated what I know already. Less bass quantity, more forward upper midrange and treble than the Focal Clear, and is somewhat ever so slightly brighter than I like. Having spent enough time with the Clear, I thought it had the perfect 'smoothness' of the treble for my liking and the Utopia I thought has some glare which probably the tilt of the tonal balance has something to do with.
Additionally, the stage is typical Focal stage which is not wide for an open headphone. Soundstage for me is one of those that make people go 'woah' so it would've been fantastic if the stage is larger especially for the summit-fi price point.
That's where the unpleasantries stop. Despite having lesser sub-bass and overall less warmth, the Utopia's dynamic punch is so much better than the Clear. It hits much harder and is without a doubt snappier. EQ the sub-bass up to 3db and problem fixed!
Detail retrieval is just phenomenal with this headphone. Listening to Daft Punk's Random Access Memory album, I easily get the "oh I didn't know it's there" reaction. It seems there's a whole new world that opens up when listening to the Utopia. There are just more low-level details and information that began to appear with this headphone
Now granted my reaction when I first had the Clear was similar, but comparing them side by side now makes the latter somewhat cloudy and less separated enough. Maybe I'm singing too many praises because I'm still in the honeymoon phase with this headphone? Only time can tell I suppose.
Now do take note that my source isn't up to par for a headphone like this nor does it provide the best synergy. My quick tests were done with a stack of Schiit Modius and Monoprice THX 887. The latter specifically is a neutral slightly bright amplifier and what the Utopia needs is the opposite so I'm looking to source a tube amp that can pair better with the headphone and hopefully take the slight edge of its upper frequencies while giving more body to the low bass area.
Still, I want to be clear that even with the current setup that I ran it with, I find the Utopia to be a clear step up from the Clear. It's not like it's bad sounding and if anything, I'm more amazed that this is what's defined as poor synergy. I can listen to the Utopia for a whole day and only pay for the awesome experience with a slight neck soreness due to it being on the heavy side.
That's about it for now!
Comments
comments