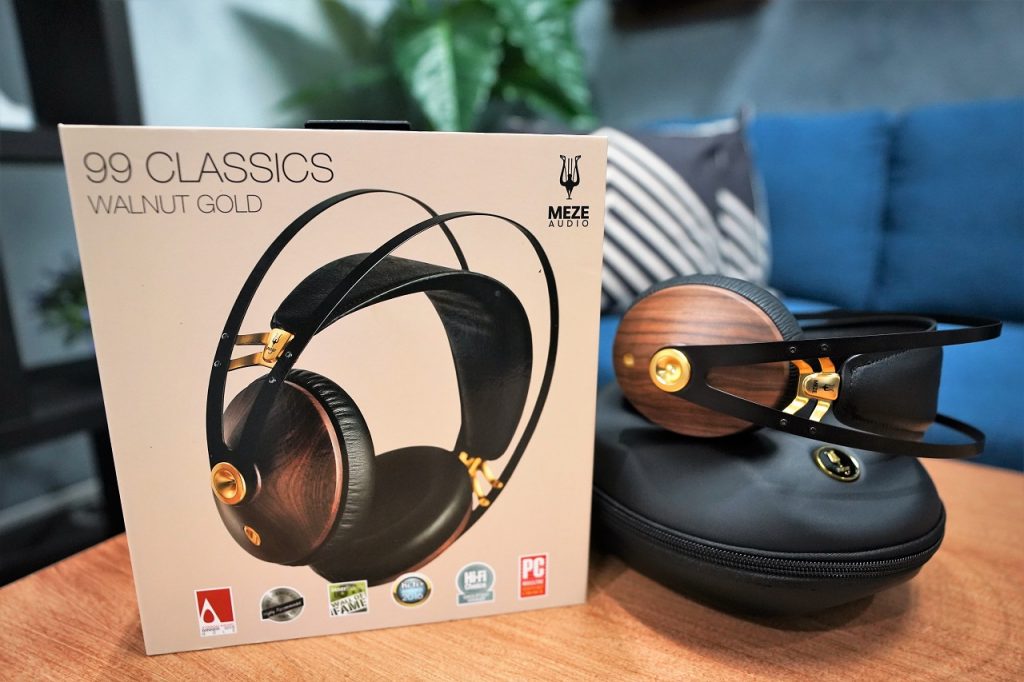 Sound Quality
The 99 Classics is a fun-sounding, colored headphone so those who are sticklers for neutrality should skip this. The bass is emphatic and can sound overpowering and murky if the track has a lot of it. The overall extension is good but not great as it rolls off quite early compared to say the Drop THX Panda or Audeze Sine. It's also not as tight as the two but I think this is because of the wood coloration and the bass tuning.
Despite the mid and upper bass bloom, the transition to mids is pretty good. It does make things sound warmish but the midrange doesn't become dull or veiled. Super bassy headphones a lot of times tend to affect the midrange badly where the vocal can sound unnatural and cupped but this is not the case with Meze 99. There's also a good amount of energy in the presence region which I feel is needed to balance the tonality a bit.
The treble, while slightly lower in level, is quite articulate without the harshness or peakiness. It does sound a bit tizzy up top which may bother some but as a sealed bassy headphone, I thought the treble frequency was tastefully done. Not papery sounding or overly smoothed out.
Imaging is quite good once you get past that elevated bass and the transients are snappy despite the wood decay vibe that permeates in the bass and lower midrange area. This is quite common with wooden headphones and accounts for their good musicality in exchange for some congestion on fast music. Finally, the soundstage is ok. Not too constricted but not gonna be mistaken for an open headphone.
The best part for me though is how efficient this headphone is and not just its drivability, but how good it sounds off any sources. I'm gonna fail a blind test where this headphone is plugged in straight from the audio jack of my Asus laptop versus it being plugged through my THX 887.
Quick Comparisons
I have some sealed headphones and thought it'd be great if I can do some quick back and forth between some of them (or from memory)
Vs Audioquest NightOwl
This is also a colored headphone except the shelf or elevation affects a wider spectrum. I would say the Meze 99 has a much better overall balance, midrange coherence, and stage while the NightOwl has better treble resolution and more natural timbre. If you can EQ, the NightOwl is a hair better but otherwise, there's no contest.
Full review of Audioquest Nightowl here.
Vs Drop THX Panda
This is a Bluetooth headphone based on the Oppo PM3 which is why I feel the need to include it here. The THX Panda is closer to neutral bass with better sub-bass extension and impact/punch, lesser accentuation but is less articulate and lively sounding up top. Translates to less 'fun sound relative to the 99 Classics.
Full review of Drop THX Panda here.
Vs Focal Spirit Classic
The Spirit Classic has no bass accentuation, less warm and musical midrange but better overall coherence and linearity. It's even closer to neutral than the Panda so this one can sound 'boring' relative to others in this list.
Full review of Focal Spirit Classic here.
Vs Audeze Sine
This headphone is neutral bright. Shouldn't be even included in this list contextually-speaking, but just in case you're reading this review and have gotten to this part despite not being a basshead. 😛
Full review of Audeze Sine here.
Conclusion
As a bass-heavy headphone, the Meze 99 Classics performs quite well in many different departments. Looking past its sound performance, there's even less flaw to find. The look is exceptional, build quality is great, accessories are plenty, and comfort is very good. A jack-of-all-trades if you ask me.
Now I keep on using the word bassy or bass-heavy in this review but the interesting thing is Meze doesn't even market it as such. Instead, it's marketed towards hobbyists and enthusiasts. And I'm not blaming them for that. The 99 Classics sounds coherent, clean, and musical enough to merit that. A lot has changed really with how headphones are supposed to be tuned especially with Harman's curve becoming more and more prominent.
If the need is geared more towards a portable headphone where passive sound isolation is needed, I feel 99 Classics falls a little short. Efficient and light, yes but it just doesn't do the job good enough in canceling out noise. And as good as the materials are, this headphone is not the "throw it in the backpack" type. You need to be dainty with it and treat it with love.
The Meze 99 Classics is highly recommended if you're in the market for a headphone of this type. Even if you do not consider yourself a basshead, I still think you should give it a listen if you can.
Any of the headphones I compared it to are good alternatives if you can find them (since some of them are discontinued). The next step up that I can think of are the Focal Elegia and Aeon Flow Closed v1 but both are double the price of the Meze 99.
Once again, a quick thanks to Meze Audio for sending out this headphone for review. Go check out the 99 Classics on their website.
Comments
comments