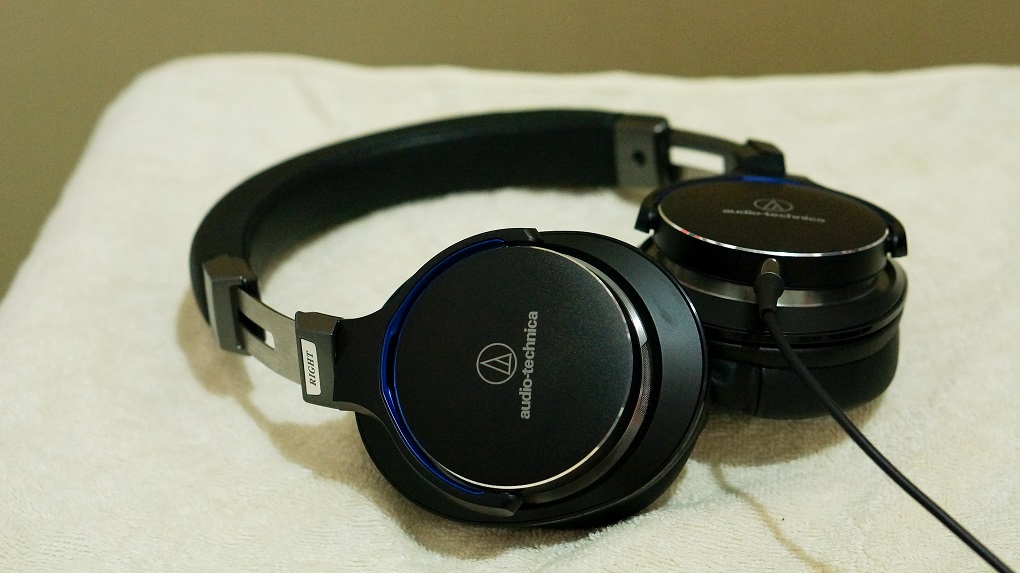 Sound Quality
In one word, fabulous! My experience with Audio-Technica headphones is they can either sound quite warm or edgy and while the MSR7 hinges more with the latter, the overall clarity and resolution is up to par with some of the best full size sealed headphones that I've tried. The overall signature is slightly tilted upwards with emphasis on upper midrange then mid-treble. But that doesn't mean the headphone is peaky though I can understand some people finding it bright.
Let's start with the bass. The bass is nice and punchy but quite tight. Some people are saying that it rolls off around midbass which makes the extension good but not great however as a whole I don't see it much of an issue at all. In comparison to the good old M50, the MSR7 is more even-sounding and has better bass to midrange transition as the former tends to bleed into the midrange a bit. MSR7's upper bass is free of bloat too making it more balanced sounding.
The midrange is crystal clear with some emphasis around the upper midrange area. The emphasis is not too much that it does not make the music too shouty or nasal. I kinda like the emphasis in this area when done right and the MSR7 absolutely nailed it. The overall midrange is pretty smooth and I feel it fits whatever genre of music you're listening to.
Treble as a whole is slightly emphasized but has good clarity. It is a little uneven in this area but for a sealed headphone, I feel it's one of the best. Comparing it with the M50 again, the MSR7 has better clarity and is less edgy sounding. Then against the Viso HP50, I simply find the HP50 muffled sounding in highs relative to the MSR7. Yes, it can be a little bright and fatiguing to some especially if you crank up the volume however it's not the unreasonable type of brightness
I couldn't help but compare the MSR7 to the open-backed Beyerdynamic DT880 in treble and it's quite close. The DT 880 of course has a better treble extension with more air and less emphasis in the lower treble. But it's also thinner-sounding and can be 'metallic' texturally. So even with the DT 880 being an open headphone, I didn't feel like there's that big of a difference in overall treble resolution especially if you're just listening to the mainstream type of music.
The soundstage in this headphone is good for a sealed headphone. It doesn't sound too closed and I didn't feel the Viso HP50 (which has this RoomFeel technology) has much of an edge in this regard either. Imaging is also pretty darn good and I enjoyed listening to my progressive rock music through this headphone more than the HP50 and to some extent even the DT 880 250 ohms. I find it to be phenomenal as a whole for this type of headphone.
As this headphone is marketed for portable applications, it can be easily used with your phones, digital players, and desktop computer outs. That being said I didn't bother using an amp with it.
Conclusion
Unless you have a strong aversion with headphones that sound brighter than average (it's still not too bright though), then I highly recommend the Audio-Technica MSR7 regardless if you're looking for a portable headphone or one that can be used at home or in the office within the price range.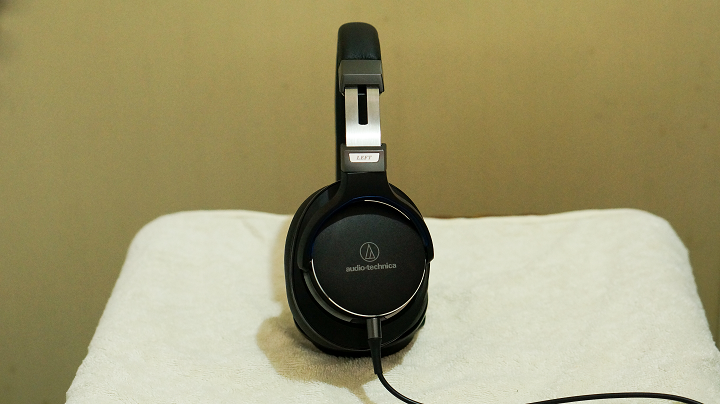 The combination of good build quality and construction materials, above-average passive noise isolation, and of course great sound makes it an ideal choice for a sealed headphone.
This is going on our 'top headphone list for sealed phones' and quite possibly replace the AKG K551/K550. I personally also like this headphone better than the NAD Viso HP50 even though the HP50 has a flatter frequency response. The MSR7 to me edges the HP50 in overall clarity and punch as the latter can sound too warm at times relative to the MSR7.
Thanks to Audio-Technica Philippines for lending me this amazing headphone.
Comments
comments