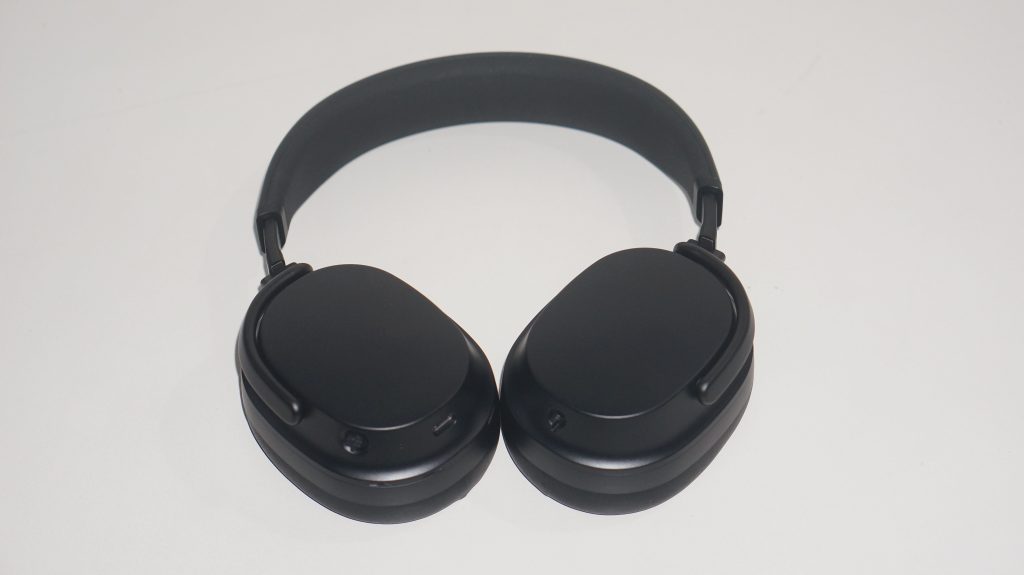 Sound Quality
Let me get this out of the way. The THX Panda doesn't sound like your average wireless Bluetooth headphone AT ALL. Sure, wireless headphones, in general, are getting better sonically and there are some noise-cancelers that I don't mind using for its intended purpose, but as a whole, you're not gonna make the mistake of thinking these are wired headphones.
Wireless headphones have a distinct compressed sound that is largely uneven with poor overall resolution. But that's fine for its intended purpose as a commute or office work headphone where all you want is superb isolation and a sound that is mostly inoffensive.
The THX Panda sounds more like your typical full-sized sealed headphone with wires. It has a very agreeable tonal balance. Meaty lows, full-sounding mids, and present treble that isn't overly smoothed out. Heading towards the 'modern neutral' signature that many people prefer these days.
Bass is plenty and extends well enough into the sub-bass for the nice punch and slam. It's not flat bass and there is a slight bleed into the midrange but it transitions quite well. Even with an elevated bass, I don't feel it's a dark sounding headphone.
The midrange is very pleasant and the low mids have a good roundness and weight to it. However, it's not excessive that it becomes overly warm or wooly. To my ears, it's the type of tuning that plays well enough for most genres.
There is some recession in the upper mids and the beginning of low treble which can give that slight dullness impression to some of the instruments played in that area but it goes back up again in the mid-treble frequencies onwards before appropriately smoothing down past 10Khz.
This results in some nice sparkle up top. I find the overall treble to be smooth and resolving enough despite being lower in level and ultimately lacking in air. No grain, metallic tinge, or harshness as well and this actually reminds me of Focal Spirit Classic's high frequencies in that they're both smooth and polite, but not overly lacking in detail.
The stage is typical of closed headphones unsurprisingly which I feel has some relation to how the headphone seals from outside noise and how much sound it leaks. The THX Panda do both well, and that would of course result in a very closed 'headphone' type of staging.
Instrument separation is good for a headphone of this type but the imaging lacks finesse due to thick weighty lower frequencies. It's not a slow sounding headphone by any means but I feel this is where the limitations of the driver and the type of headphone come into play.
Again, I've not heard anything as good as this. Maybe some of the similar offerings from Audeze and Senns compete with it but I haven't heard them so I can't really give any comments on that.
Wireless vs wired mode
Usually, when a headphone is wireless, the wired mode flat out sucks since it's as good as an afterthought. Wireless headphones can be tuned quite well with the signal processing inside the built-in DSP or amp but without it, the driver construction and all that stuff have to be precise.
Thankfully, the THX Panda sounds more or less the same when in wired mode which means even without the processing from within the DSP, the driver performs well.
Still, I prefer Bluetooth over wired. Aside from the obvious convenience factor, I find the Bluetooth mode to be more punchy and less constricted. Now that can be due to volume differences or just placebo so I wouldn't really think of it too much.
Comparisons
I don't have a lot of headphones to compare it to but luckily, I think these headphones will give you an additional context in terms of what you're really getting with the THX Panda sound-wise.
Vs Audeze Sine
They can't be more opposite from each other. The Sine is leaner and easily brighter than the THX Panda. Overall clarity and speed are better with the Sine because it has more forward upper frequencies and flatter bass, but the Panda has a bigger and fuller sound which I'd argue is the safer option.
The Sine's treble is also more fatiguing and rougher in character relative to the THX Panda.
Vs Focal Spirit Classic
They are comparable as they have more similarities than differences specifically a relaxed overall signature, punchy bass, and smooth treble. The Spirit Classic to me has more finesse due to having a more correct quantity in the bass, mids, and treble aka better balance.
The bass and low mids aren't as weighty as the Panda but it also doesn't sound lean like the Audeze Sine. For me, the Spirit Classic is an improved version of the THX Panda although they're obviously very different headphones.
Conclusion
This is quite possibly the easiest recommendation that I can make for a headphone. If you want a superb-sounding wireless headphone that also sounds as good when wired, then get the Drop THX Panda. It's as simple as that. You're not gonna regret it. Maybe some will find the comfort to be not as good so that's the only drawback.
It becomes more complicated if your requirements are not as cut and dry as that. If you want good active noise-canceling, you may need to look elsewhere. As good as the THX Panda is with passive noise isolation, it just doesn't muffle as many frequencies as say the Bose 700, QC35, or the Sonys. Don't get me wrong though, the Panda will block out a ton of noise but just not the constant rumble when you're in a plane or subway station.
In the wired category, it's not the best value you'll get out of $400 purely from a sound performance standpoint but it's not a bad option either. As a matter of fact, I think it's a decent option. The Oppo PM3, which the Panda was based off, was one of our recommendations for the sealed headphones category. Maybe we should replace it with this since that's been discontinued for quite some time now?
If you're willing to go up a bit and get better sound, you can take a look at the Focal Elegia, and the Aeon Flow closed. Mind you, those headphones are more for home listening due to their size and obviously, they're not wireless. So think about your priorities. 🙂
Shout out again to my buddy Digital Anomaly for letting me borrow these cans for review. Go check out the THX Panda on Drop.com.
Comments
comments